Mr. Hastings will take over as executive chairman of the vast streaming company. As co-CEO, Greg Peters will work alongside Ted Sarandos.
One of Netflix's founders, Reed Hastings, has been in charge of the organization since its business model revolved around mailing DVDs before it became a streaming service.
Mr. Hastings announced on Thursday that he was giving up his co-chief executive position and taking on the role of executive chairman for the business after spending the last 25 years transforming Netflix into the first significant streaming company in the world and dragging the rest of the media industry along with him.
Greg Peters, who now serves as the company's COO and CPO, will take his place as Netflix's new co-CEO, working with Ted Sarandos. Since 2020, Mr. Sarandos has held the position.
According to Mr. Hastings, 62, the executive restructuring was a component of a long-awaited succession plan. He cited Bill Gates and Jeff Bezos as examples of other business founders who transitioned into chairman positions "after they pass the baton to others" while announcing the change.
"In the last two and a half years, I've increasingly delegated the management of Netflix to them," Mr. Hastings said in a statement, noting that Mr. Sarandos and Mr. Peters have dealt with the challenges of the pandemic and upheavals in the streaming industry. He added, "The board and I believe it's the right time to complete my succession."
"I'll be helping Greg and Ted and, like any good chairman, be a bridge from the board to our co-C.E.O.s. I'll also be spending more time on philanthropy and remain very focused on Netflix stock doing well."
Reed Hastings steps aside as CEO of Netflix to become exec chairman of the board, a title that preserves his power.

Ted Sarandos has a new co-CEO, Greg Peters, who launched its ad-supported business. https://t.co/kAJSrswkeR

— Edmund Lee (@edmundlee) January 19, 2023
Later, in a video interview with investors, Mr. Hastings said that the Netflix board had started considering the succession plan roughly ten years ago. He explained, "This formally acknowledges how we've been operating at least the last few quarters."
Bela Bajaria, the company's worldwide head of television, has been named chief content officer, and Scott Stuber, the global head of cinema, has been given a new title: chairman of Netflix Film.
"We've all learned so much from his intellectual rigor, honesty, and willingness to take big bets — and we look forward to working with him for many more years to come," Mr. Sarandos said of Mr. Hastings. "Since Reed started to delegate management to us, Greg and I have built a strong operating model based on our shared values and like-minded approach to growth."
With Netflix's fourth-quarter results report came the Mr. Hastings news. The business reported adding 7.7 million members, exceeding its estimated 4.5 million, and blamed the increase on good fourth-quarter content.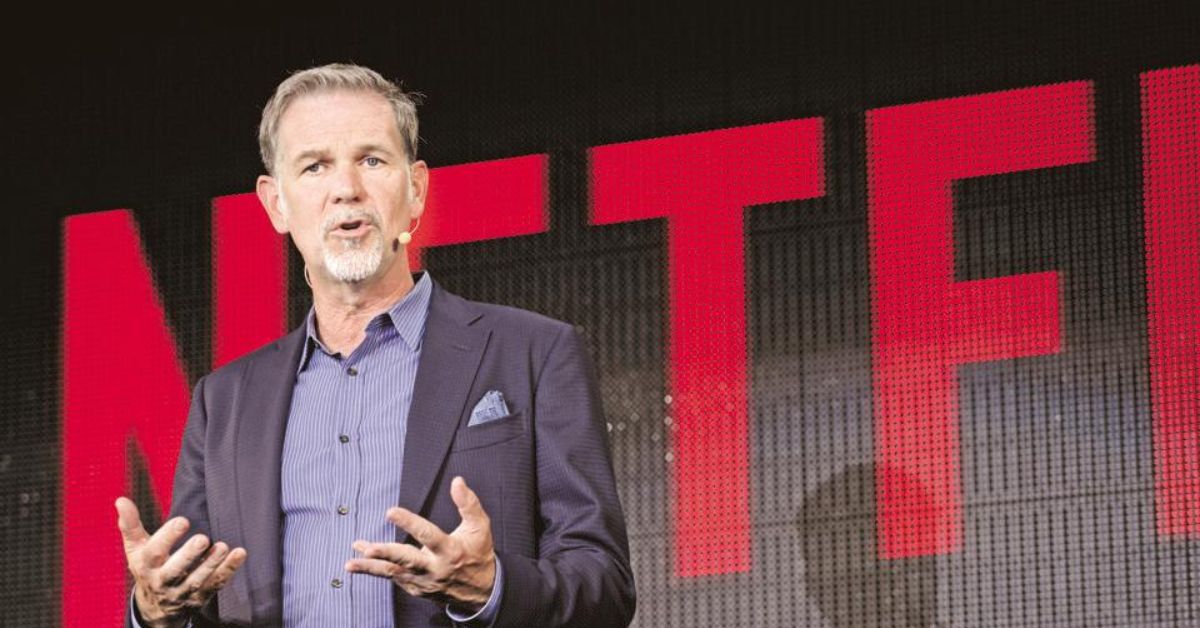 According to Netflix, there are currently over 231 million subscribers globally. Despite the dismal first half in which it lost more than a million customers, Netflix concluded 2022 with more subscribers than it did at the beginning of the year.
In the fourth quarter, Netflix made around $7.85 billion in revenue, a nearly 2 percent rise from last year's period. Profit for the business was roughly $55 million, a 90% drop from the prior year.
After-hours trading saw a more than 6% increase in Netflix's stock price
Netflix claimed in a letter to shareholders that their advertising-supported subscription has enhanced customer engagement and subscriber growth. According to the business, few customers have converted from other plans, and consumers and advertisers have been enthusiastic about the choice.
In the first quarter of 2023, Netflix did not issue any guidance for new subscriber additions, following a declaration made last year that it would discontinue delivering those anxiously awaited updates to investors. As Netflix's streaming business has grown, investors and analysts have emphasized revenue growth and profit. However, the company anticipated revenue to expand by 4% in the quarter, with subscriber growth being more robust in the second quarter of this year than the first.
In its letter, Netflix—known for listing sleep as one of its biggest rivals—acknowledged that it faces competition from streaming rivals and new platforms like TikTok. It also included other competitors for possible clients, including conventional television, YouTube, and video games.
Netflix's Reed Hastings Will Cede Co-Chief Executive Role – Mr. Hastings will become the streaming giant's executive chairman. Greg Peters will join Ted Sarandos as a co-chief executive. #Leadership #CEO #Netflix https://t.co/d6xYYiXA0f pic.twitter.com/C51qeMsiHs

— Antonio Vieira Santos (@AkwyZ) January 19, 2023
Netflix's $6.99 per month advertising tier was a significant about-face for the streaming service, whose management, Mr. Hastings foremost among them, had long claimed that they didn't think commercials were appropriate for the business. But investors warmed by the company's earlier subscriber losses have flocked to the plan, which debuted in November.
Netflix revealed on Wednesday that their 2023 film schedule would include 49 films, including animated and foreign-language ones. This is less than in 2022 when the company's goal of releasing a movie every week led to the production of 61 live-action films in English, five animated features, three anime films, and 17 live-action films in other languages.
Highlights for 2023 include the thriller "The Killer" by David Fincher, starring Michael Fassbender; "Rebel Moon" by Zack Snyder; and "Pain Hustlers" by David Yates, starring Emily Blunt, which the business reportedly purchased for $50 million out of the Cannes Film Festival last year. With sequels to "Murder Mystery" and "Extraction" also scheduled to premiere in 2023, Netflix is likewise delivering on its promise to franchise its programming.
Netflix, which had previously been unopposed in the market for online video streaming, is now up against well-funded rivals like Disney, Comcast, and Warner Bros. Discovery, on whose programming it previously depended. Due to this rivalry and a U.S. market that is becoming increasingly saturated, Netflix has been compelled to look for members abroad, crack down on password sharing, and roll out its advertising strategy.
In a letter to shareholders, Netflix stated that it aimed to grow its subscriber base through novel programs like "paid sharing," which lets people be added to accounts for a price.
NEWS: Netflix co-founder Reed Hastings is ceding his co-chief executive role. W/ @nicsperling https://t.co/vnUvOAJwN2

— Ben Mullin (@BenMullin) January 19, 2023
Netflix also highlighted the popularity of several of its most recent productions, such as the television series "Wednesday" and the film "Glass Onion: A Knives Out Mystery," which was previewed in a few American movie theatres before it was released on Netflix. A period-piece detective mystery starring Christian Bale and Harry Melling called "The Pale Blue Eyes" was also added to Netflix's last quarter's streaming lineup.
In 1997, Mr. Hastings and Marc Randolph co-launched Netflix as a mail-order movie rental service. Before that, Mr. Hastings had successfully built a pure Software business. The two established a corporate culture of "radical honesty" to the point where, in 1998, Mr. Hastings gave Mr. Randolph a PowerPoint presentation outlining why he was no longer qualified to serve as CEO.
Since then, Mr. Hastings has played a vital role in the business' transition to streaming. Despite frequently repeating the phrase "No advertising coming onto Netflix. Period," it eventually came to pass.
The only serious blemish on Mr. Hastings's record was Qwikster, the company's short-lived DVD division that it established to set itself apart from its streaming service. One million members quit the service after one month because they were unhappy with the price increase brought on by the service's division into two parts.
Netflix's @reedhastings Will Cede Co-Chief Executive Role. Greg Peters joins Ted Sarandos as co-chief executive. with @BenMullin https://t.co/gtIxWNdlUh

— Nicole Sperling (@nicsperling) January 19, 2023
Netflix received criticism for removing a comedy episode from its Saudi Arabia stream in late 2018 because it was critical of Crown Prince Mohammed bin Salman and violated Saudi censorship laws. The attack in question was "Patriot Act," starring Hasan Minhaj. In response, Mr. Hastings stated: "We're not trying to do truth to power. We're trying to entertain."
When critics inside and outside the firm claimed that comedian Dave Chappelle's stand-up special encouraged prejudice against transgender individuals in 2021, the company stood by him. Several workers staged a walkout in opposition to Netflix's choice to keep the content online.
Please stay connected with us on Leedaily.com for more further details.