Coroners have identified four people killed in the fatal shooting in Monterey Park, California. The Saturday shooting at a dancing class claimed the lives of eleven persons and injured nine others.
Three women and a guy in their 50s and 60s were among the victims who have so far been named. Three ladies and four men are among the remaining victims.
The alleged shooter was later discovered dead in a car by police. The police have given no motive.
Who Are Monterey Park Victims
What's Known About the Victims is Listed Below.
My Nhan, a 65-year-old woman her family described as a regular at the Monterey Park dance studio where the tragedy occurred, is one of the victims who have been named so far.
A family statement posted to Twitter by journalist Tiffany Liou – whose husband was Ms. Nhan's nephew – said that her death is "still sinking in."

"She spent so many years going to the dance studio in Monterey Park on weekends," the statement said. "It's what she loved to do."

"But unfairly, Saturday was her last dance."

The family's statement also noted that Ms. Nhan – who they affectionately called "MyMy" – was the first person killed in the shooting.
Mymy Nhan was the first person shot and killed during the #MontereyPark mass shooting.

I've covered a lot of tragedies, and never imagined one would hit so close to home.

My husband's family is hurting beyond measure.
Here's a statement on behalf of the family. pic.twitter.com/q5GXa0g4Kh

— Tiffany Liou (@tliou) January 23, 2023
View the original tweet on Twitter
Authorities in California have named Lilan Li, 63, Xiujan Yu, 57, and Valentino Alvero, 68, as the additional victims.
While notifying the victims' next of kin, the Los Angeles County Coroner's office is withholding the identity of the other victims.
We have Recently covered top articles related to Monterey Park Shooting. If you want to read complete news regarding the Suspect in California Monterey Park Shooting,  then click the links given below:
Ming Wei Ma, a former pupil who assisted in running the dance studio, has been named as one of the additional victims by The LA Times.
Dance instructor Lauren Woods claimed Mr. Ma was a crucial part of the studio on Facebook.
"He was so adorable to me, and I could tell he was the heart of Star Ballroom," Ms. Woods said. "So many dancers, teachers, and organizers were connected with Ma, and I will miss him dearly."
A few mourners showed up at the studio on Monday morning to pay their respects.
Flowers, candles, and other memorials had gathered before a gate by mid-morning. "Victims and families, you are in our prayers," said a letter attached to one bouquet of roses.
A woman walked carefully up to the memorial, kneeled for a brief moment of silence, and then laid a yellow arrangement of flowers on the ground.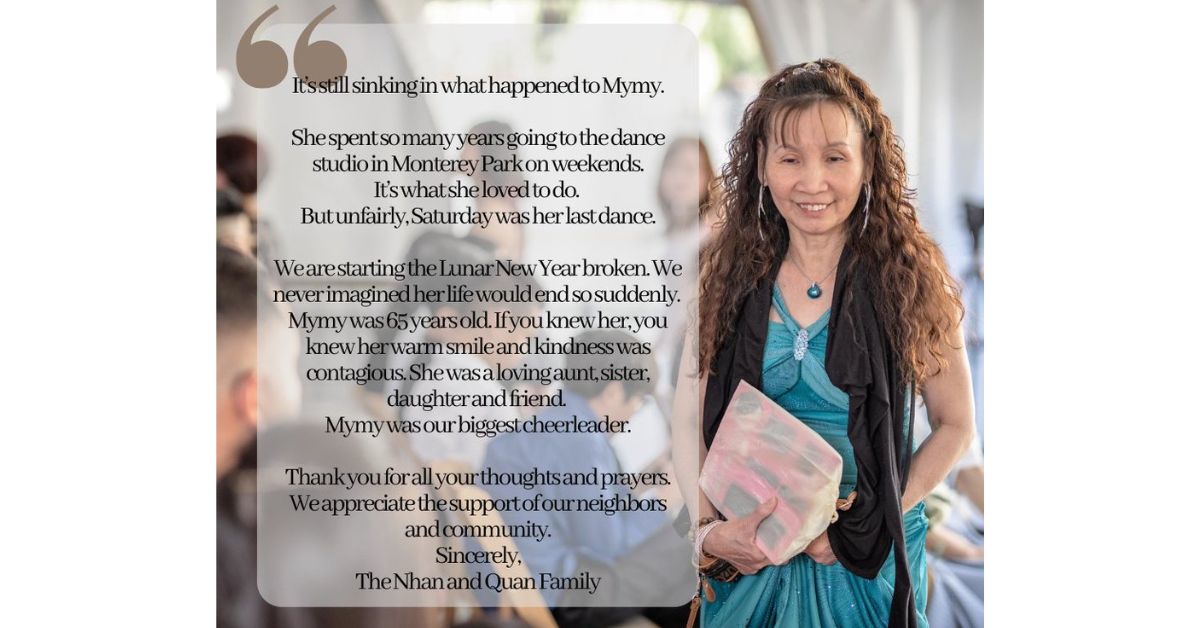 Jovita and Alfonso Matematico only left the victims with their silent prayers. The married Catholic couple traveled by car from downtown Los Angeles to Monterey Park to pay their respects.
"We went to church today, at 8 o'clock, and we prayed for them: may they rest in peace," said Jovita, 64.
Baptist preacher Meko Seto, 41, a different mourner, told the BBC that the shooting had destroyed the neighborhood.
"People were said, they were afraid," he said, recalling a flurry of texts he'd received. "A lot of our church members are from Monterey Park. They were shocked."

"We're mourning," Mr. Seto said. "We never thought this would happen in a million years."
The Leedaily is not responsible for the content of external sites. (Source Link)