When Ellen DeGeneres and Portia de Rossi married in August 2008, they broke down barriers, and their love story continues to motivate people.
The two of them initially met in 2000 at a party, but it wasn't until 2004 that they started to develop deeper relationships. After VH1's Big in '04 awards presentation, they started dating, which gave de Rossi the self-assurance she needed to come out as homos*xual.
"I've had my years of being not open, many years of it," she told the Advocate in August 2005, despite previously being linked to ex Francesca Gregorini. "It's an honor for me to do this; it's just nice to be asked."

The Ally McBeal alum added: "I ran into Ellen at a photo shoot about a year ago and she took my breath away. That had never happened to me in my life, where I saw somebody and [experienced] all of those things you hear about in songs and read about in poetry. My knees were weak. It was amazing. And it was very hard for me to get her out of my mind after that … we just were kind of supposed to be together … I just couldn't ignore the feelings I had for Ellen."
On the other hand, DeGeneres has frequently shown her affection for de Rossi in public.
"Portia understands me completely. In our vows, she recited a quote — 'It is good to be loved. It is profound to be understood' — and to me, that's everything. What 'I love you' really means is 'I understand you,' and she loves me for everything that I am," the talk show host gushed to Good Housekeeping in 2017. "She supports me and makes me happy."
For her part, the Scandal alum routinely posts heartfelt remembrances of her relationship.
In October 2019, de Rossi gushed on Instagram with a picture of the pair on the red carpet, writing, "She always makes me see the fun in things I would generally take seriously…she always makes me laugh 😆."

View this post on Instagram
In July 2020, DeGeneres' wife supported her when she faced criticism for allegedly creating a terrible work atmosphere on The Ellen DeGeneres Show. The native of Australia praised the couple's supporters for their encouragement throughout the scandal in an "I Stand by Ellen" Instagram post in August 2020.
View the timeline of DeGeneres and de Rossi's relationship by scrolling down:
2000
De Rossi had not yet made her s*xuality known publicly when the two briefly met at a party.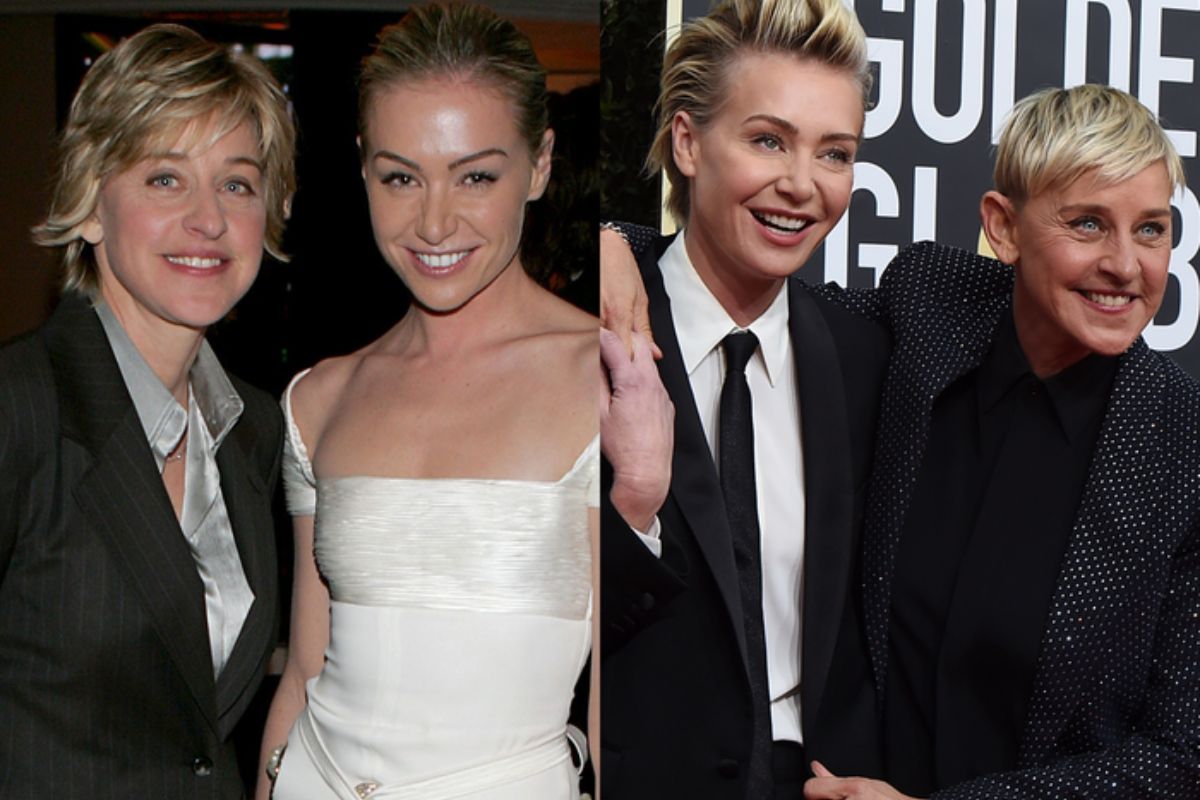 2004
They met at the Shrine Auditorium in Los Angeles and immediately began dating.
2005
In August 2005, De Rossi came out as gay and discussed how her relationship with DeGeneres had altered her perspective on life. "Just being a couple — being able to walk down a red carpet holding her hand, that's exciting for me," the model told the Advocate. "I respect her so much. She was so courageous and so loud in '97, and now she is doing something that is more subliminal. She's changing the world, she really is, and it's exciting to be a part of that."
August 2008
They do. Soon after same-s*x marriage was deemed lawful in California by the Supreme Court, DeGeneres and de Rossi got married.
November 2009
"I feel very fortunate," DeGeneres said during a TV interview while talking about her marriage. "I feel really, really lucky to have found that connection."
2010
Although the Scandal actress continued to use de Rossi professionally, she legally changed her name to Portia Lee James DeGeneres.
When it comes to Ellen DeGeneres and Portia de Rossi, we've got you covered with all the latest headlines. See the linked articles for further information on these topics:
September 2015
DeGeneres debunked divorce rumors. "I don't know why they do this," she told Howard Stern. "We're kind of flattered. We really don't almost break up, we don't fight, we're madly in love, and I guess it's boring."
January 2016
"We're just really good friends and we talk about everything, and we never ever, ever lie to each other, like, not even the tiniest lies," De Rossi told Entertainment Tonight. "And she's the only person I want to hang out with. Like, she is my best friend and I just want to be with her all the time. She's just so awesome! Who wouldn't want to be with Ellen all the time?"
February 2018
In honor of DeGeneres' 60th birthday, de Rossi gifted her a gorilla sanctuary. "This gift had to be really special, and it had to represent who you are and what you really care about," the doting wife told the Finding Dory star. "Not just now, but what you've always cared about. What you were influenced by and what has made you the amazing person that you are today." DeGeneres called it "the best gift ever."
May 2019
"She's fantastic, she's very, very funny," the comedian told David Letterman of de Rossi. "She makes me laugh, which is really important."
August 2019
"Happy anniversary, Portia," the comedian wrote via Instagram on the couple's 11-year wedding anniversary. "My favorite number with my favorite person."
September 2019
In September, the couple expanded their family by rescuing a puppy. The two gave the dog with the curly hair the name Mrs. Wallis Browning, and DeGeneres' talk show featured an introduction to her.
July 2020
The couple mourned the loss of their pup Wolf, who was one of two of their dogs by their sides at their 2008 nuptials. "Last night we had to say goodbye to our dog Wolf. He brought us so much love and joy. I hope we did the same for him," the Finding Dory star wrote via Instagram.
August 2020
The actress from Arrested Development supported her wife in August 2020 after DeGeneres faced criticism a month earlier over claims that The Ellen DeGeneres Show was a terrible workplace. "To all our fans….we see you," de Rossi wrote via Instagram, alongside a photo that read, "I Stand by Ellen" across a blue background. "Thank you for your support. #stopbotattacks #IStandWithEllenDeGeneres #IStandByEllen."
February 2021
"Portia was born in Australia, and I was born in New Orleans on Australia Day. I knew we were meant to be together," DeGeneres joked via social media on the romantic holiday. "I love you, @PortiaDeRossi #HappyValentinesDay."

https://twitter.com/EllenDeGeneres/status/1361011851635482625
April 2021
The Australia native showed up with cupcakes on The Ellen DeGeneres Show to celebrate her wife's 3,000th episode of the daytime talk show. "Congratulations on 3000 episodes, brilliant woman!" de Rossi later wrote via Instagram.

View this post on Instagram
August 2021
"13 years ago I married the love of my life. And it just keeps getting better♥️🥂," de Rossi wrote via Instagram on the couple's anniversary. The talk show host also shared a message of love to her wife via social media, writing, "Happy anniversary, Portia. I'm the luckiest girl in the world because I get to share my life with you."
May 2022
The Scandal alum sang her partner's praises as DeGeneres ended her 19-year run on The Ellen DeGeneres Show. "To my utterly beautiful, supremely talented, insanely accomplished wife on the day of your final show … I married an icon. I married my idol," de Rossi wrote via Instagram. "I'm so proud of you for making this platform one that entertains, inspires, and uplifts people. @theellenshow this show will forever be remembered for elevating the world's consciousness. I love you."

View this post on Instagram
August 2022
DeGeneres shared a video montage of the couple's goofiest moments over the years in celebration of their anniversary. "'It's good to be loved. It's profound to be understood.' I love you, @portiaderossi. Happy 14! ❤️," she captioned the Instagram clip.

View this post on Instagram
November 2022
The former talk show presenter used social media to commemorate their 18 years of marriage.
"It's our 18 year anniversary today. I fall in love with her more every day. I'm so grateful for her love," DeGeneres wrote via Instagram alongside a sweet selfie of the pair during sunset.

View this post on Instagram