Nikki Haley is an American politician and diplomat who has been a prominent figure in the Republican Party. She was the first female and Indian American Governor of South Carolina, serving from 2011 to 2017, and later served as the United States Ambassador to the United Nations under President Donald Trump from 2017 to 2018.
During her tenure as governor, Haley was known for her conservative policies, including a focus on job creation and economic growth. She also gained national attention for her leadership following the tragic shooting at Emanuel African Methodist Episcopal Church in Charleston, where she supported the removal of the Confederate flag from the Statehouse grounds.
As U.S. Ambassador to the United Nations, Haley was a vocal advocate for the Trump administration's foreign policy agenda, including its controversial decision to recognize Jerusalem as the capital of Israel. She also played a key role in negotiating sanctions against North Korea and building a coalition of countries to counter Iran's nuclear ambitions.
Haley is widely regarded as a rising star in the Republican Party, and many have speculated about her potential future political ambitions. With her experience as a governor and ambassador, she has gained a reputation as a skilled politician and diplomat with a deep understanding of domestic and international issues.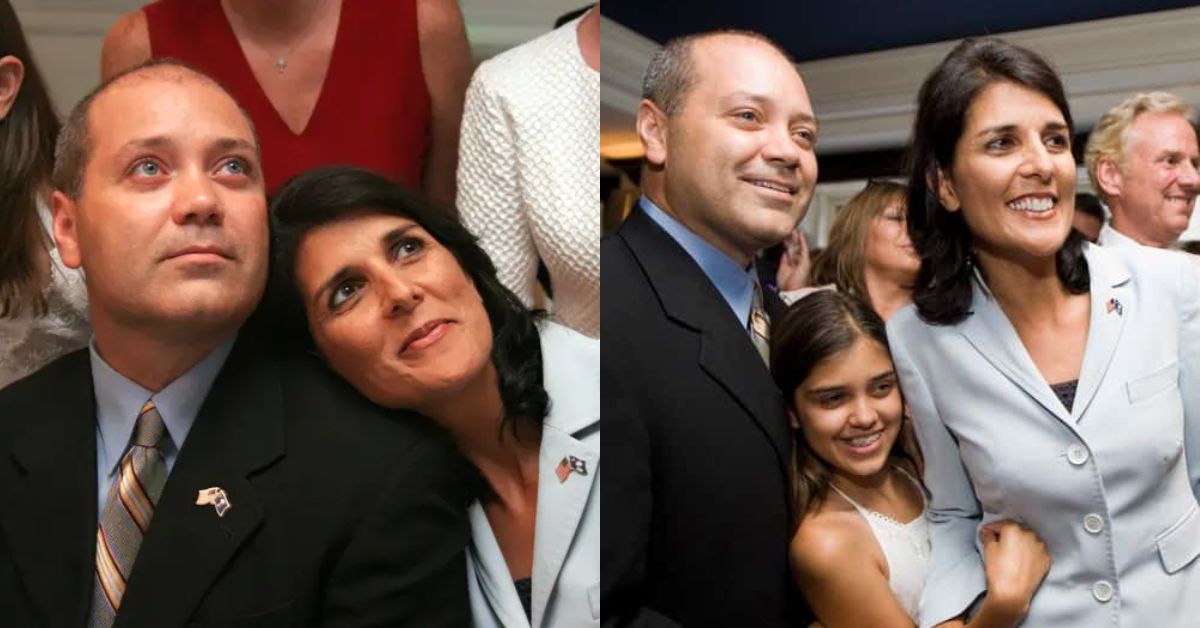 Have a look at some of the latest trending articles:
Who is Nikki Haley's Husband?
William Michael Haley is Nikki's husband. He is a South Carolina Army commissioned officer. Security Cooperation is Mr. Haley's area of expertise. As the captain of the South Carolina Army National Guard, he completed a one-year tour of service in Afghanistan in 2012.
He and his team were stationed in the province of Helmand, where they assisted local farmers in the development of farming methods. In addition, he directed the growth of cash crops to take the place of the opium poppies that were previously farmed in the area.
View this post on Instagram
Mr. Haley is the first spouse of a governor to serve on active duty in a combat zone, earning him the honorary title of FGOSC (First Gentleman of South Carolina) from the marines who were serving with him. He is identified as the organization's president. His wife, Nikki Haley, founded this group to focus on media and public policy.
View this post on Instagram
Mr. Haley is a native of Ohio. The man was adopted. He was adopted by Bill and Carole Haley at the age of four after being placed in foster care when he was three. At Clemson University, where Mr. Haley obtained his business administration degree and where he first met Nikki, they were both undergraduate students.
Before spending eight years as a technician in human resources for the South Carolina Army National Guard, he worked at his mother-in-clothes-law's company. Rena Haley, 25, and Nalin Haley, 21, are the couple's two children, and they got married in 1996.
Nikki Haley Early Career
Haley joined her family's apparel firm as its bookkeeper and chief financial officer after working for FCR Corporation, a waste management and recycling business, after receiving her degree from Clemson University.
In 1996, she was hitched to Michael Haley. Later, she got involved in local politics. She was appointed to the Orangeburg County Chamber of Commerce's board of directors in 1998. In 2003, she was appointed to the Lexington Chamber of Commerce's board of directors.
In 2003, Haley was elected treasurer, and in 2004, she was elected president of the National Association of Women Business Owners. The Lexington Gala, which raised money for a nearby hospital, was headed by Haley.
She also served on the boards of the Lexington County Sheriff's Foundation, West Metro Republican Women, and the Lexington Medical Foundation. She served as the National Association of Women Business Owners' South Carolina Chapter's president and as head of the Friends of Scouting Leadership Division campaign in 2006.
That's everything we know about Nikki Haley's Husband, hope you like it. Stay tuned with leedaily.com for more celebrity news and gossip.
Check out some of the most recent trending articles: