Tesla, the innovative electric car manufacturer, has been revolutionizing the automotive industry with its cutting-edge technologies and sleek designs. With the release of the Model S, Model X, Model 3, Model Y, and Cybertruck, Tesla has captured the attention and admiration of car enthusiasts and environmentalists alike. However, many people are wondering when Tesla will release its highly anticipated Model 2.
This electric vehicle is expected to be a more affordable option compared to Tesla's current offerings, making it accessible to a wider audience.  There is a lot of speculation and excitement surrounding its potential arrival. In this context, let's explore the rumors and expectations surrounding the Tesla Model 2 release date.
Tesla Model 2 Release Date
With the Tesla Cybertruck and Tesla Semi both still upcoming on the production line, most of Tesla's production should be tied up for most of 2023. Unless more evidence surfaces that the Model 2 is actually in development in Shanghai, we don't see any reason the Model 2 will suddenly surface before the end of 2023.
If the Model 2 project does make it into the production queue for 2024, we would expect to see some pre-order availability in early 2024 or (optimistically) during Q4 of 2023.
Here you can also check our recent articles:
Tesla Model 2 Battery
A new iron-based battery, which claims a high cycle life, may be available from Tesla for the Model 2. Also, the switch from a nickel to iron for its upcoming entry-level automobiles shows Tesla is focused on bringing the price of the car down. A base made of iron, which is more plentiful than nickel, would allow Tesla to operate with less supply restriction. Musk claimed he had pressed mining firms to increase the amount of the material they were producing.
The LFP battery (Lithium Iron Phosphate) would be a crucial component of the new entry-level Tesla because of its long cycle life. For commercial applications, long cycle life is essential. Tesla may have valuable knowledge of this chemistry for optimizing the mass-market Model 2 when it is ready to sell because it already launched the Model 3 with LFP.
Tesla Model 2 Range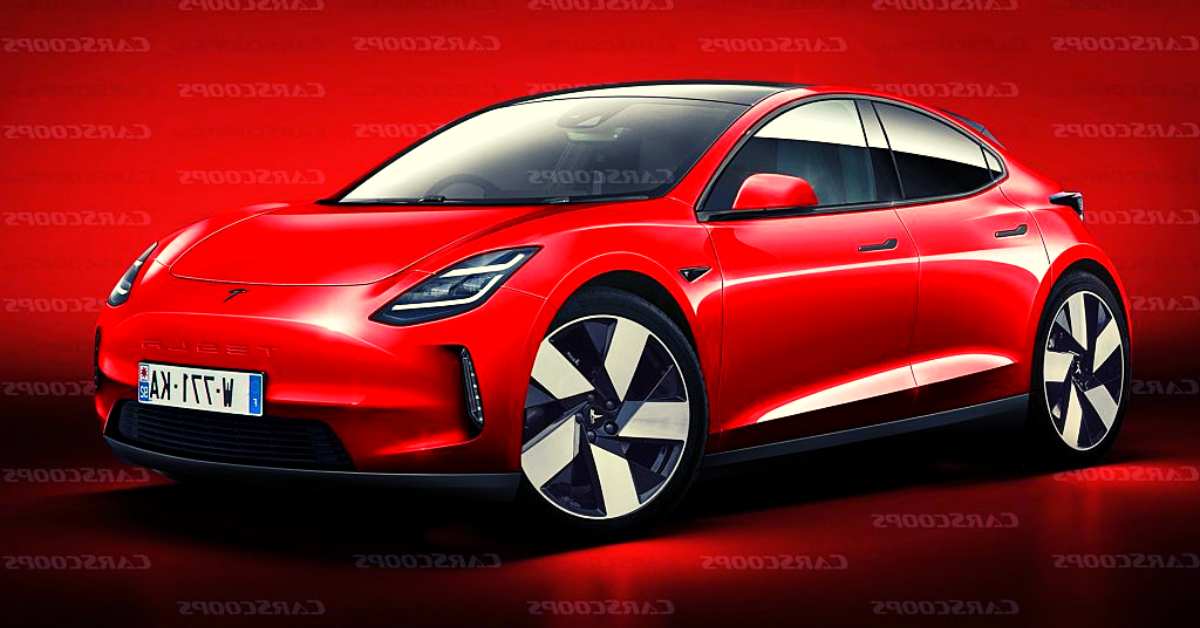 Compact cars like the Volkswagen Golf and Nissan Leaf will have competition from the USD 25,000 Tesla. Aside from China, Europe is likely to display a strong interest in entry-level Tesla. With a range of about 250 miles, we believe Tesla will use an LFP battery pack with a total/gross energy content of roughly 50 kWh, making it a reliable and inexpensive daily driver for urban environments.
When it debuts in early 2024, the Renault 5, a potential competitor to the Tesla Model 2, will have a range of 400 km (249 miles) in the WLTP test cycle used in Europe. Other prospective tiny EVs in Europe are expected to have similar pricing and range predictions.
It is obvious that for the Tesla Model 2 to remain competitive, it must also have a base price under EUR 25,000 and a range of at least 250 miles. The majority of designs may just use one motor to drive the rear wheels, with an AWD performance variant possibly being the most expensive.
Tesla Model 2 Details
Only a few specifics concerning Model 2 have been made public thus far. Although none of those details have really been confirmed by Tesla. Elon Musk has established several objectives for the next electric vehicle model that Tesla may concentrate on while creating the Model 2.
First of all, when it does begin to be sold, the Model 2's target price of $25,000 would make it Tesla's cheapest model yet. Second, the Model 2 will have a popular design in Europe and Asia and be either a compact automobile or a subcompact vehicle.
Tesla According to reports, China is developing the Model 2. According to claims in the Chinese media, Model 2 work has already begun. 2022 predictions suggested a possible 2023 delivery date for the Model 2. The $25,000 compact/subcompact car from Tesla hasn't received an official name just yet.
Analysts at Loup Ventures think the #TeslaModel2 will be unveiled in 2024. https://t.co/ucxfwbGpVw @Writer_01001101

— TESLARATI (@Teslarati) January 2, 2023
The next electric vehicle has been referred to as the Model 2 and Model Q, but Tesla has not officially endorsed either name. Elon Musk was questioned about calling the future entry-level EV the Model I during his virtual presentation at the 2022 B20 Conference in Indonesia. The name was neither verified nor refuted by Musk. Instead, he said it made sense to drive a more fuel-efficient vehicle.
Coming into 2023, Tesla already has a full calendar. At Giga Texas, it is focusing on the Model 3 redesign, a potential Model Y update, and the Cybertruck's maiden production ramp. In the first half of 2023, Tesla may focus on the Tesla Cybertruck.