Prime Video's Reacher premiered to critical acclaim in February, and the show was quickly renewed for a second season, much to the delight of its devoted audience. A strong cast, solid source material, exciting action, and thought-provoking storytelling all come together in one show. There are still lots of novels to be read, so hopefully, Alan Ritchson will have more screen time in Season 2.
When Will Reacher Season 2 Be Released?
The specific date of release has not been announced at this time. According to the official Reacher Instagram account, production on Season 2 began in September 2022. Given how quickly the show was renewed and the enthusiastic reception from viewers, Season 2 is sure to be even better than the first.
Production on Season 2 wrapped in February 2023, with Alan Ritchson marking the occasion on his Instagram:
View this post on Instagram
Season 2 of Reacher will premiere globally on Amazon Prime Video, just like the first season did. Unlike with many other series, fans of Lee Child's books can watch them without resorting to a virtual private network (VPN) or searching for an alternate streaming provider.
Check out the following articles to learn more about the release dates of upcoming fascinating series like this:
Who is in the Reacher Season 2 Cast?
Although we don't know who each new cast member will portray just yet, we do have a very comprehensive cast list for series regulars and even a few guest stars because production is still in progress. Alan Ritchson, who is 'only' 6 feet 3, returns as the primary huge 6 foot 5 protagonists. Reacher's former coworker, Frances Neagley (Maria Sten), who we first met in Season 1, also returns.
Serinda Swan (Graceland) plays Karla Dixon and Rory Cochrane (Encounter) plays Shane Langston. Ferdinand Kingsley (Victoria) plays the enigmatic A.M. Moreover, Shaun Sipos (Outer Range) will be appearing in Season 2 as David O'Donnell. The series' core cast has now been filled out, but there are also several notable guest stars lined up for future episodes.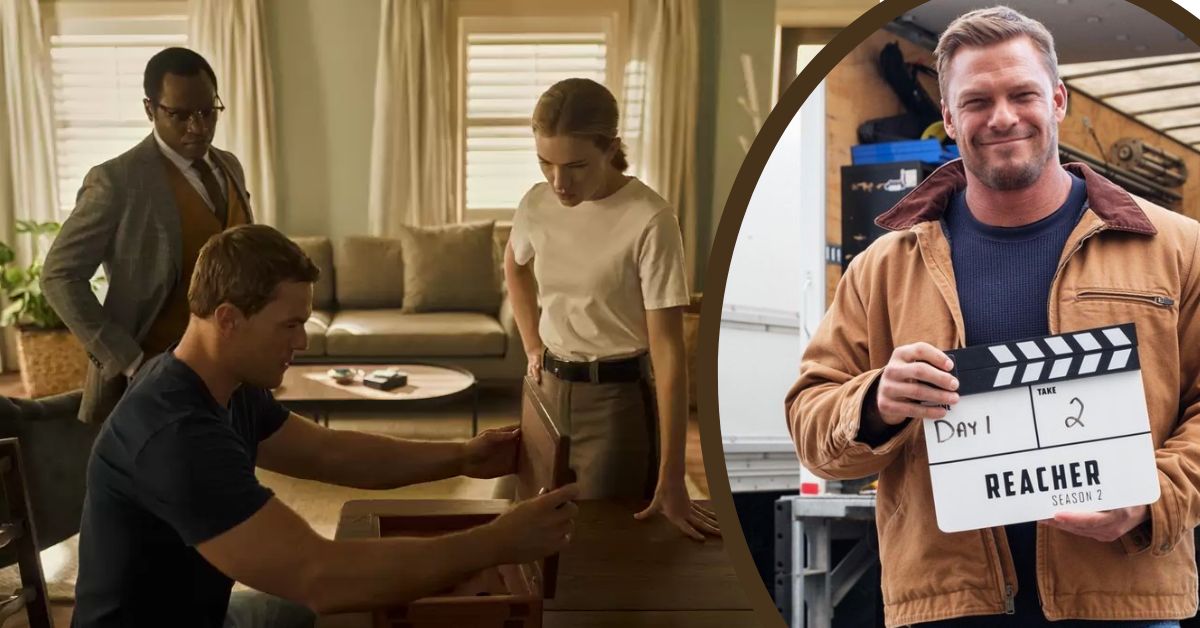 These guest stars include Domenick Lombardozzi (The Family) as Guy Russo, Luke Bilyk (Degrassi: The Next Generation) as Calvin Franz, Dean McKenzie (Shooter) as Stan Lowery, Edsson Morales (At Risk) as Manuel Orozco, Andrés Collantes (A Million Little Things) as Jorge Sanchez, Shannon Kook (The 100) as Tony Swan, Ty Olsson (Rise of the Planet of the Apes) as Saropian, Josh Blacker (The Wall) as Hortense Fields, and Al Sapienza (The Sopranos) as Marsh.
It is worth noting that all of these actors and guest actors are slated to appear in the pilot episode, albeit they may be dispersed across the show. No matter the case, it appears the Amazon Prime Video series is prepared to go to great lengths to compete with all kinds of famous faces from around the world for even minor roles.
Which Book Will Be the Inspiration for This Season of Reacher?
Based on the eleventh book in the Jack Reacher series, Bad Luck and Trouble serves as the inspiration for Season 11 of Reacher. I'm a bookworm, so the fact that the TV show skips ten novels between seasons makes me wince just a little. Yet, the eleventh book appears to be a reliable resource. The book's summary begins with the following:
From a helicopter high above the empty California desert, a man is sent free-falling into the night…. In Chicago, a woman learns that an elite team of ex–army investigators is being hunted down one by one…. And on the streets of Portland, Jack Reacher—soldier, cop, hero—is pulled out of his wandering life by a code that few other people could understand. From the first shocking scenes in Lee Child's explosive new novel, Jack Reacher is plunged like a knife into the heart of a conspiracy that is killing old friends…and is on its way to something even worse.
The cast list we have seen suggests that the show will go fairly close to the novel, but as we saw in the first season of Reacher and most film/TV adaptations, the script is almost always significantly different from the source material.
 Reacher Season 2: What Do We Know So Far?
They were both members of Reacher's investigation unit; Karla Dixon (Serinda Swan) and David O'Donnell (Shaun Sipos). However whether or not this will be done through memories, the complete team will be featured. Calvin Franz, Stan Lowery, Manuel Orozco, Jorge Sanchez, and Tony Swan are among those mentioned.
A.M. (Ferdinand Kingsley), a mercenary who is likely to be available for hire and who has been labeled as a "ghost," is the only member of Reacher's unit not to be a ghost. Perhaps they're helping the good folks, but chances are slim. At last, we meet Shane Langston (Rory Cochrane), a retired New York City police investigator who now serves as the head of security for a private company.
If you want to know when other exciting series like this one will be going to air, check out the links below:
While numerous of the series regulars and guest stars are either present or former members of the New York Police Department, it appears likely that New York City will play a central role in this season. It would be fascinating to see how Jack Reacher's love of music (which was prominent in season one) translates to New York City, especially for those who enjoyed the show's lively and bluesy soundtrack.