There has been a call to boycott Bud Light because of the company's association with transg*nder activist and influencer Dylan Mulvaney.
Mulvaney released a video to her 1.7 million Instagram followers on Sunday, saying that Bud Light had sent her a customized can featuring her likeness in honor of her first year as a woman. The wildly popular Day 365 Of Girlhood video series chronicled Mulvaney's Year One of Transition.
Several people on social media have voiced their disapproval of the relationship and even called for a boycott. Anheuser-Bud Busch's Light is not the first product to receive backlash over its association with transg*nder rights campaigners. Hershey's received similar backlash in February after it featured the visage of a transg*nder rights activist on Canadian International Women's Day chocolate bar wrappers.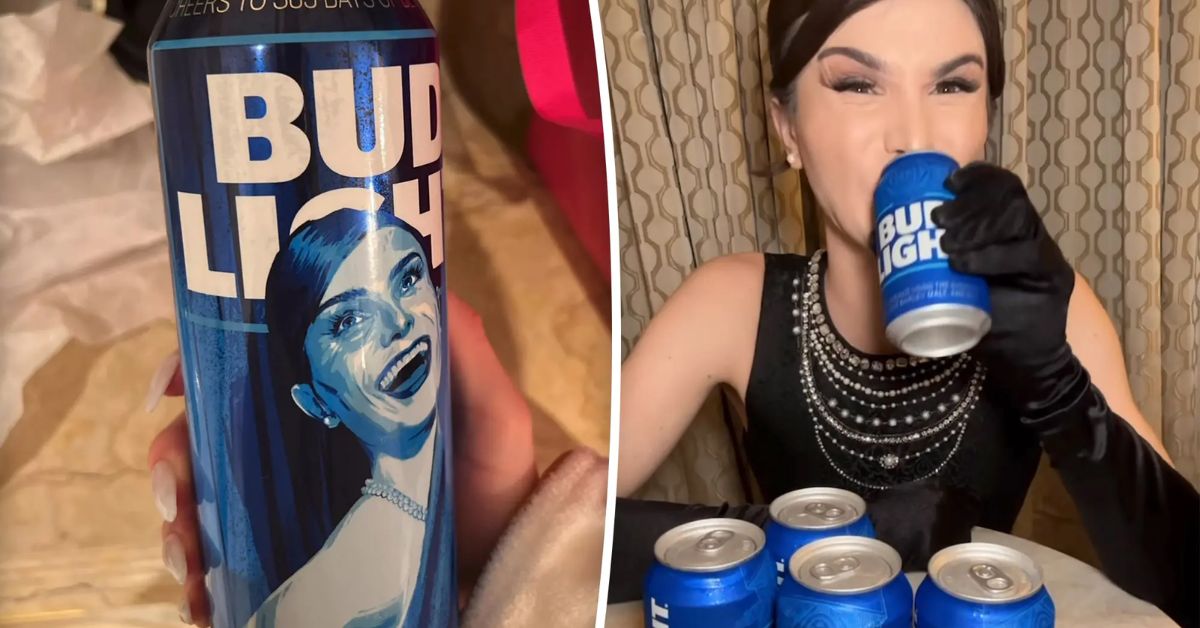 The controversy surrounding transg*nder corporate ambassadors is emblematic of a larger discussion over transg*nder women's representation in traditionally female-dominated fields and communities. Some argue that transg*nder women should be given the same rights as normal women, while others insist they are unique and fight to preserve their achievements.
"This month, I celebrated by day 365 of womanhood, and Bud Light sent me possibly the best gift ever—a can with my face on it," Mulvaney told her social media followers before referencing a promotion with the beer brand detailed on her profile.
We covered top headlines recently. Go to the links below to learn more:
In yet another clip, filmed in what looks like a bathtub, Mulvaney appears on hold while standing next to a case of Bud Lights. While waiting, she cracks open a new one and dances to the hold music in the tub.
The topic of transg*nder rights has proven to be quite divisive. Pew Research Center polled Americans on their attitudes toward transg*nder people last year and found that 38% thought society had gone too far in embracing them, while 36% said it had not gone far enough.
"Boycott Bud Lite and NEVER DRINK IT AGAIN EVER," Mike Crispi, a podcast host and former Republican primary candidate for Congress in New Jersey, tweeted.
Boycott Bud Light and NEVER DRINK IT AGAIN EVER

— Mike Crispi (@MikeCrispiNJ) April 3, 2023
"The good news is that Bud Light tastes like rain water that someone siphoned out of a tin bucket so it should be very easy to boycott," conservative commentator Matt Walsh tweeted on Sunday.
The good news is that Bud Light tastes like rain water that someone siphoned out of a tin bucket so it should be very easy to boycott

— Matt Walsh (@MattWalshBlog) April 2, 2023
"I have never wanted a drink less than this," Robby Starbuck, a GOP congressional primary candidate in Tennessee, said. He then added: "Message to conservative families from Bud Light seems to be: We will encourage and even celebrate the erasure of men and women along with all the values you care about. They've gone totally woke. Will you ever spend your money with them now?"
I have never wanted a drink less than this. For all those asking "Bud Light seriously didn't do a deal with this guy that pretends to be a girl, did they?" Uh, yeah… They did. I apologize in advance for the nausea. pic.twitter.com/Z9YzLZozna

— Robby Starbuck (@robbystarbuck) April 3, 2023
Meanwhile, Brian Black, a U.S. Air Force veteran, shot a video on Sunday of himself pouring a can of Bud Lite down the kitchen sink with the hashtag #BoycottBudLight.
Such a shame @budlight, not getting my money anymore. #BoycottBudLight #GoWokeGoBrokeBudLight pic.twitter.com/xXk8KZvv2z

— Brian Black (@USAFVet17) April 2, 2023
Nonetheless, other internet users questioned the corporate logic behind the alliance. Ada Lluch, an "anti-woke" beauty consultant, stated on Twitter that the deal would be "a Huge turnoff" since Bud Lite "caters to men."
Bud Light is an American beer that caters to men.

Partnering with Dylan Mulvaney is a HUGE turnoff to most men.

There are about 1.6 million transgenders in America.

Did Budweiser just throw away 349,000,000 potential customers to please 1.6 million?

It's not about profit.

— Ada Lluch 🇪🇸 (@ada_lluch) April 2, 2023
The founder of the anti-LGBT group Gays Against Groomers, Jaimee Michell, tweeted that Bud Light "either doesn't know their customers or they do and just don't give a s***. I'm guessing the latter. What a disgrace."
Dylan Mulvaney is the new (botched) face of Bud Light 🤡 @budlight either doesn't know their customers or they do and just don't give a shit. I'm guessing the latter. What a disgrace.

— Jaimee Michell Founder of Gays Against Groomers (@thegaywhostrayd) April 2, 2023
On Monday, Anheuser-Busch informed Newsweek via a spokeswoman that the business "works with hundreds of influencers across our brands as one of many ways to authentically connect with audiences across various demographics. From time to time we produce unique commemorative cans for fans and for brand influencers, like Dylan Mulvaney."
The spokesperson added that "the commemorative can was a gift to celebrate a personal milestone and is not for sale to the general public."
Mulvaney, who has gained over 10 million followers since she began documenting her transition on TikTok, has collaborated with a number of businesses, including the fashion label Kate Spade.
She spoke with Vice President Joe Biden about transg*nder rights at the White House in October. On March 13, Vice President Kamala Harris sent Mulvaney a letter commemorating one year as a trans woman, in which Harris congratulated Mulvaney on "You continue to break barriers and inspire young people across our nation and around the world."
We've been talking about the top news stories of late. If you want to learn more about them, click on one of the links below:
Some Twitter users countered the demands to boycott Bud Light by noting that the beer company has supported LGBT Pride "for over 20 years," Others underlined that other big beer brands had also supported the LGBTQ+ community.
"Good luck finding another beer," wrote Ed Krassenstein, a social media personality. "The problem for them is that virtually every major beer company… have multiple programs that also support the LGBTQ+ communities. LGBTQ+ support isn't the problem. Bigotry is the problem!"
Frequently Asked Question
Why is Bud Light Being Boycotted?
After partnering with transg*nder personality and activist Dylan Mulvaney, Bud Light is facing a boycott.
Is Budweiser Bud Light?
Anheuser-Busch produces numerous other beers under the Budweiser brand, including Bud Lite, Bud Ice, and Bud Light Lime, in addition to the traditional Budweiser.
What is Budweiser Up for Whatever?
In an effort to promote the notions of spontaneous and unfettered pleasure, the Bud Light brand began utilizing the hashtag #Upforwhatever in 2014. As part of the brand's innovative social media strategy, the campaign included a Super Bowl ad and numerous stunning experiential events that were shared throughout social networks.
Is Bud Light Watered Down Budweiser?
Former Anheuser-Busch breweries employees claim that popular beers such as Budweiser, Michelob, Natural Ice, and Bud Lite Platinum were routinely watered down.