There's going to be a sizzling new romance set in Yellowstone. We recently learned that Ryan Bingham and Hassie Harrison, who play Walker and Laramie on Yellowstone, are dating in real life. Please find out how the couple confirmed they are together and what it's like in their partnership.
Paramount's popular Western drama Yellowstone centers on the Dutton family, who live in Montana and run the Yellowstone Dutton Ranch. John Dutton (Kevin Costner), his family, and their fellow ranch hands defend the Yellowstone property in this new 2018 TV series.
The show's ratings on broadcast and online have been consistently high. According to Deadline, the season 5 premiere's simultaneous airing on Paramount, CMT, Pop, and TV Land attracted over 16 million viewers. Yellowstone's opening episode had the highest cable ratings since The Walking Dead's 2017 launch.
Walker, a cowboy at the Yellowstone Dutton Ranch, is played by Ryan Bingham, a Grammy-winning musician, and actor. In Season 1 Episode 8, "The Unravelling: Part 1," Bingham debuted when Rip Wheeler (Cole Hauser) escorted Walker to the ranch following Walker's release from jail. There's no denying that he's been the source of much drama in the bunker, mainly by annoying Rip, John Dutton's trusted right hand.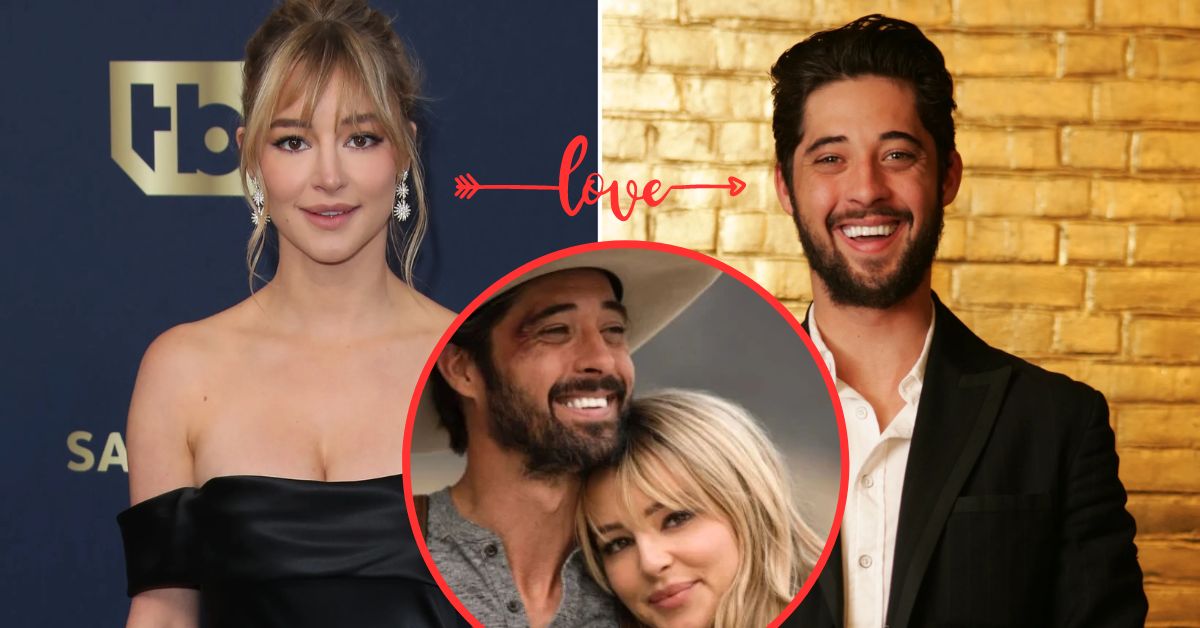 Laramie, a barrel racer and a friend of Mia (the barrel racer who used to date Jimmy Hurdstram, played by Jefferson White), is the woman he has recently started seeing, and he plays music frequently for the ranch. Hassie Harrison, originally from Texas, is Laramie. Harrison is also well-known for appearing in Tacoma FD and The Iron Orchard.
After a brief affair in earlier episodes, lifelong cowboy Lloyd Pierce (Forrie J. Smith) was understandably unhappy when Laramie woke up in Walker's bed in the Season 3 finale of Yellowstone. When Rip determined that women had no place in the bunkhouse, Laramie and Mia had to end their relationship and leave the ranch.
Here you can also check more celebrities dating life:
Laramie returned in Episode 3 of Season 5 (though it's unclear how long she'll be there, what with Rip's animosity for Walker and his history of negative views toward women in the bunkhouse).
Read on to see the viral new photo of Bingham and Harrison and find out about their off-screen romance in Yellowstone.
Ryan Bingham and Hassie Harrison of Yellowstone Dating in Real Life?
Do Ryan Bingham and Hassie Harrison date in Yellowstone? In a word, yes! Ryan Bingham and Hassie Harrison's Yellowstone characters and their real-life counterparts are in a committed relationship.
On Wednesday, April 12, 2023, Bingham posted a photo to Instagram of him and Harrison kissing while wearing camouflage coats in front of a bonfire. "More than a spark @hassieharrison," he wrote in the caption. Harrison commented on the post: "I love you, cowboy." Our hearts are seriously melting. Commenters approved the relationship, with one user writing: "This is so rad! TV romance turned into real-life love! Eeeekkkk, my heart can't take it! Love this! #poorlloyd."
View this post on Instagram
Bingham was divorced from his ex-wife, film producer Anna Axster, in June of 2021 after 12 years of marriage. They have three kids together and used to collaborate on Bingham's music videos.
Meanwhile, Harrison has been dating Austin Nichols, a former co-star on One Tree Hill and current cast member on The Iron Orchard, until 2020. Bingham and Harrison may have met on the set of Yellowstone Season 3 (which premiered in 2020) and began dating soon after, but we don't know when exactly.
Their romance develops as the fate of Yellowstone and Kevin Costner's status on the show are both up in the air. The last six episodes of Season 5 are scheduled to premiere this summer. However, production delays might extend that window.
The Hollywood Reporter reported in February 2023 that filming for Yellowstone 2 was initially scheduled to begin in March 2023 but was delayed due to the controversy surrounding Costner's departure.
Similarly, Paramount Media Networks president and CEO Chris McCarthy told The Hollywood Reporter on March 28, 2023, that a Yellowstone extension series starring Matthew McConaughey would "move forward regardless of whether Costner returns to the original."
Here you can also check more celebrities dating life:
According to a Deadline report from February 2023, some Yellowstone actors will move to the new McConaughey-led program. Whether or not this includes Walker and Laramie is still unknown.
Paramount Network's Yellowstone 1883, and 1932 are all streamable on Fubo TV, Philo TV, and Hulu+ With Live TV. Peacock also hosts the first four seasons of Yellowstone can be seen online.