Ohio Attorney General Dave Yost said Monday that an Ohio grand jury found that eight Akron police officers were legally right to sh*ot and k*ll a 25-year-old Black man last year, so they won't be charged. In June, cops sh*t and k*lled Jayland Walker after he ran away from a traffic stop.
Police released a video from his body camera that showed how he was sh*t and k*lled. 40 seconds into the chase, when police tried to pull Walker over for minor equipment and traffic violations, they say he fired a sh*t from his car.
The state's investigation found that Walker was driving with a broken taillight and a broken light on his rear license plate when cops first saw him, but they didn't follow him. Yost said that they saw him again at the same crossroads 10 minutes later and decided to go after him for the equipment violation.
Officers chased the car on a freeway and through the city until Walker got out while the car was still moving, refused the officers' commands, and ran into a parking lot where he was k*lled while wearing a ski mask. The police said that he was a "de@dly threat." On the driver's seat of his car, they found a pistol, a magazine with a bullet in it, and a wedding ring.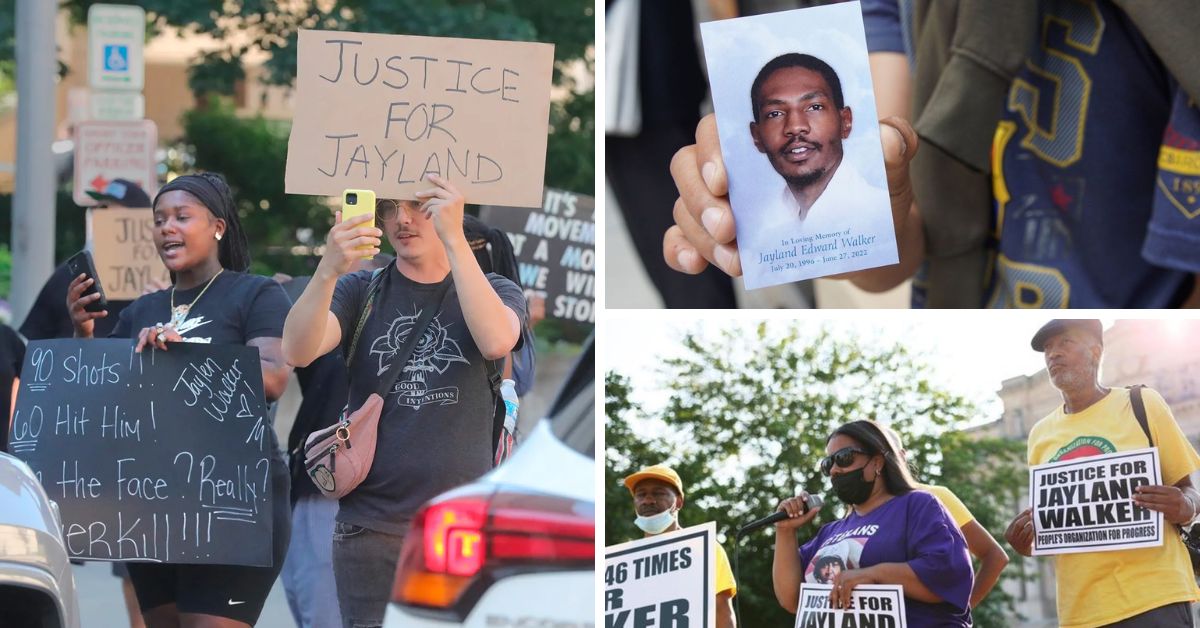 These Articles Have Been Making Headlines:
Yost said that as the police were chasing Walker, he reached for his pocket and put up his hand. Yost said that the cops thought he was firing at them again because they didn't know he had left his gun in the car. Yost said it is important to remember that Walker fired at cops and that he "sh*t first."
Anthony Pierson, an assistant state attorney general, said that the dashcam film from a police car showed Walker firing the gun from his car. "There is no doubt that he did, in fact, sh*ot at police officers," Yost said.
Pierson said that Walker had never been in trouble with the law and had never fired a gun before he went to a sh*oting range with a friend in early June.
Walker's family said that the sh*oting of a man who was powerless and whose fiancee had just di*d was cruel and pointless. Officials from the police union said that the officers thought there was an instant threat of serious harm and that what they did was in line with what they had been taught and what the rules are.
Authorities say that Walker made a dangerous move before he was sh*t, but the blurry body camera footage didn't show it very well. He was chased by police for about 10 seconds before they started sh*oting from different directions in a burst that lasted about 6 or 7 seconds.
Walker was sh*t at least 40 times, according to the county's medical examiner. The autopsy also showed that his body did not have any booze or drugs that were against the law.
The eight cops, whose names have not been made public, were put on leave at first, but 3 1/2 months after the sh*oting, they went back to their administrative jobs.
In a statement, the lawyers for the eight officers said that what happened was a tragedy for Walker's family and for all of the cops who were involved. "A split-second decision to use lethal force is one that every police officer hopes he or she will never be forced to make," the statement said.
Less than 24 hours before the chase, police in the nearby township of New Franklin Township tried to stop a car that looked like Walker's, also for small equipment violations that they did not specify. When the car left the community and went into Akron, a supervisor stopped the chase.
Check Out What We Published Recently:
Many campaigners, including the family of the Rev. Martin Luther King Jr., paid attention to Walker's de@th. The Justice Department was asked by the NAACP and a lawyer for Walker's family to start a federal civil rights probe.
During a trip to Ohio last summer, President Biden said that the case was being watched by the DOJ.
Before the grand jury meeting, city leaders met with community leaders, church groups, activists, and business owners to plan for possible protests. Workers put boards over the first-floor windows of the city hall building in the downtown area to make it a protest zone. A temporary fence is also put up around the county building.
"To help ensure the safety of our scholars and staff," interim Superintendent Mary Outley said in a statement, Akron's public schools were closed on Monday and after-school events will be canceled on Tuesday. The University of Akron said Monday night's classes would be taught online, and events on campus were canceled.