Michael Waltrip, an American former professional stock car racer, has found love again. He raced professionally in the United States in stock cars and retired as a team owner. He is the younger brother of NASCAR great Darrell Waltrip and was born on April 30, 1963, in Owensboro, Kentucky.
Starting in the 1980s, Michael Waltrip raced in more than a thousand events, most of which (784) was in the NASCAR Cup Series. He won four Cup Series races and two Xfinity Series races as a race car driver.
Waltrip formed Michael Waltrip Racing after he retired from racing and became a NASCAR pundit. He has since become one of NASCAR's most beloved and admired icons. Let's scroll down and check out who is Michael Waltrip's Girlfriend in 2023.
Who is Michael Waltrip's Girlfriend Currently?
He is presently involved with Colleen Connors. In 2023, the couple went public with their Instagram relationship. Colleen has been in the spotlight for her professional accomplishments and relationship with Waltrip. She currently serves as S.R. Perrott Inc.'s vice president of sales and company treasurer.
The former NASCAR driver and current racing analyst were once married to Elizabeth "Buffy" Franks. But, after 17 years of marriage, they eventually split up. After Waltrip's divorce, speculations floated online about who he was seeing, but it wasn't until he started d@ting Colleen Connors that anyone knew for sure.
The professional and personal lives of the 1983 Darlington Dash Series champion are well known, but who is Colleen? Are you curious about her family and friends? Please read the entire story.
The affairs of celebrities have been in the news lately. For more details, click on the links below:
About Michael Waltrip's Girlfriend, Collen Connors
On January 8, 1981, Colleen Connors was born to parents Michele and Gary Connors. She serves S.R. Perrott, Inc. as the Vice President of Sales and the Corporate Treasurer. After graduating from Father Lopez High School, she continued her education and tennis career at the University of Connecticut.
Colleen Connors Family
Colleen's mother and father have executive positions at S.R. Perrott, Inc. Collen's older sister, Eva Connors McMullin, was always a part of her life (birthday on September 1).
In 1999, Eva earned a Bachelor of Public Administration from Elon University. She started working at S.R. Perrott as the company's assistant general manager soon after she graduated.
And at Michele and Group, Eva holds the position of vice president. Her brother-in-law John McMullin (March 26), is the father of her nephew JR Mac (March 8, 2013), and her sister Eva is married to him.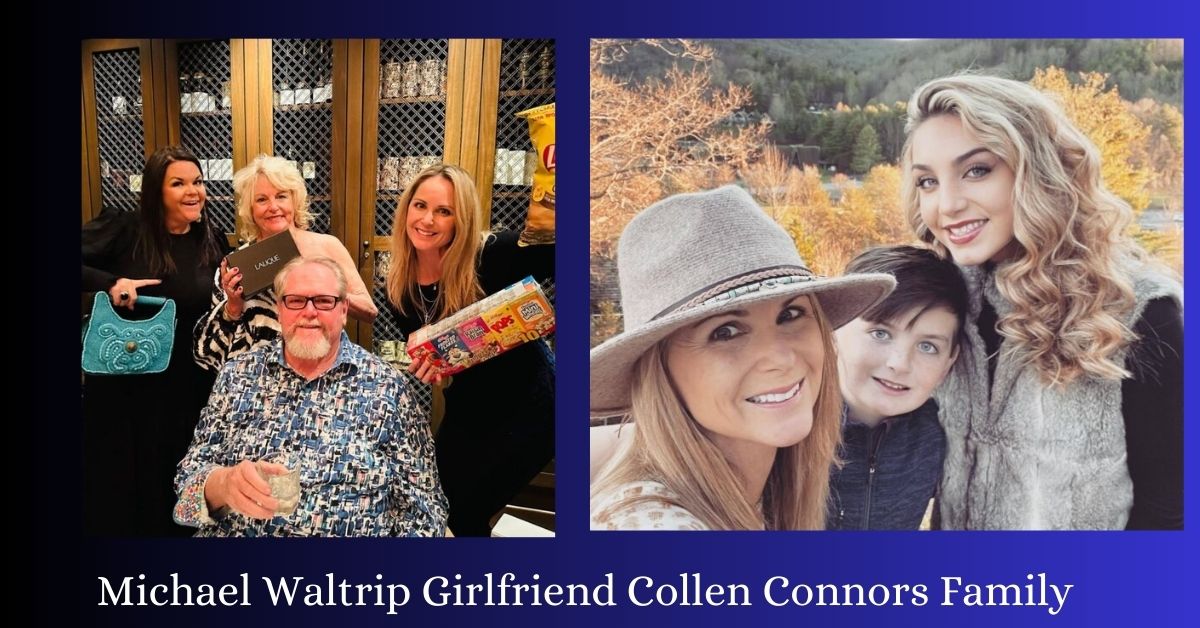 Michael Waltrip's Girlfriend is a Mother of Two
Colleen had been in a relationship before she began d@ting NASCAR driver Michael Waltrip. She has a daughter named Taylor Timko and a son named Connor Timko, who she had with her ex-husband Wes.
But, the specifics of how they met and why they broke up are kept secret. Her daughter Taylor played volleyball with DME Sports and attended Father Lopez High School. At age 10, she joined a volleyball team.
According to his LinkedIn profile, Wes Timko played football and earned a bachelor's degree in sociology from the University of Connecticut in 2003. He is currently the Vice President and co-owner of Hayward Brown Insurance.
Michael Waltrip's Past (Divorce With Elizabeth "Buffy" Franks)
Elizabeth "Buffy" Franks (born April 5, 1967) was Michael Waltrip's wife from November 27, 1993, to 2010. Michael's former car owner in NASCAR was Buffy, and the vehicle they raced with was #55. Michael was in North Carolina for the first time after an accident in August 1992. Margaret Carol "Macy" Waltrip is the couple's daughter's name.
After Michael and Buffy broke up in 2012, there were speculations that he was seeing model Kassie Hansen. These hypotheses are, nevertheless, unproven. It was also speculated that Michael was d@ting fellow professional dancer Emma Slater during Season 19 of Dancing with the Stars, but this has not been proven.
Celebrities' relationship affairs have been highlighted recently. See the links below for more information:
Michael Waltrip With His Ex-Wife & Daughter
But, by 2008, their relationship was in shambles, as evidenced by Waltrip's removal of his wedding band. In addition, Michael and Buffy went public with their split in 2010. According to Michael's memoirs, his marriage suffered after the passing of Dale Earnhardt Sr., widely regarded as one of the best drivers in NASCAR history.