During the Lunar New Year celebration in Monterey Park, California, the shooter is thought to have traveled two miles to another dance hall to kill more people.
However, a courageous and unarmed 26-year-old in charge of the ticket counter at Lai Lai Ballroom and Studio in Alhambra managed to stop him. Brandon Tsay is praised as a hero for removing the shooter's weapon.
"He was looking at me and looking around, not hiding that he was trying to do harm. His eyes were menacing," Tsay told The New York Times.
The life-or-death fight that resulted in Tsay taking possession of the gunman's weapon—which officials described as an "assault pistol"—and the gunman escaping is shown on surveillance footage from the ballroom that ABC News was able to get.
At a press conference on Sunday evening, Los Angeles County Sheriff Robert Luna said, "I can tell you that the suspect walked in there probably with the intent to kill more people." 
Tsay intervened to stop the violence in place of perhaps another as-yet-unnamed community member.
The act of bravery occurred when the 11th shooting victim passed away on Monday. The victims' first names are also being made public. They range in age from the 50s to the 70s, but what brought them together was their shared passion for dance.
After a long search, the shooter, thought to have frequented the dancing studio, was found dead on Sunday afternoon. He was discovered in Torrance, California, some 20 miles away from the location of the crime. The 72-year-old man committed suicide as police drew up to his car.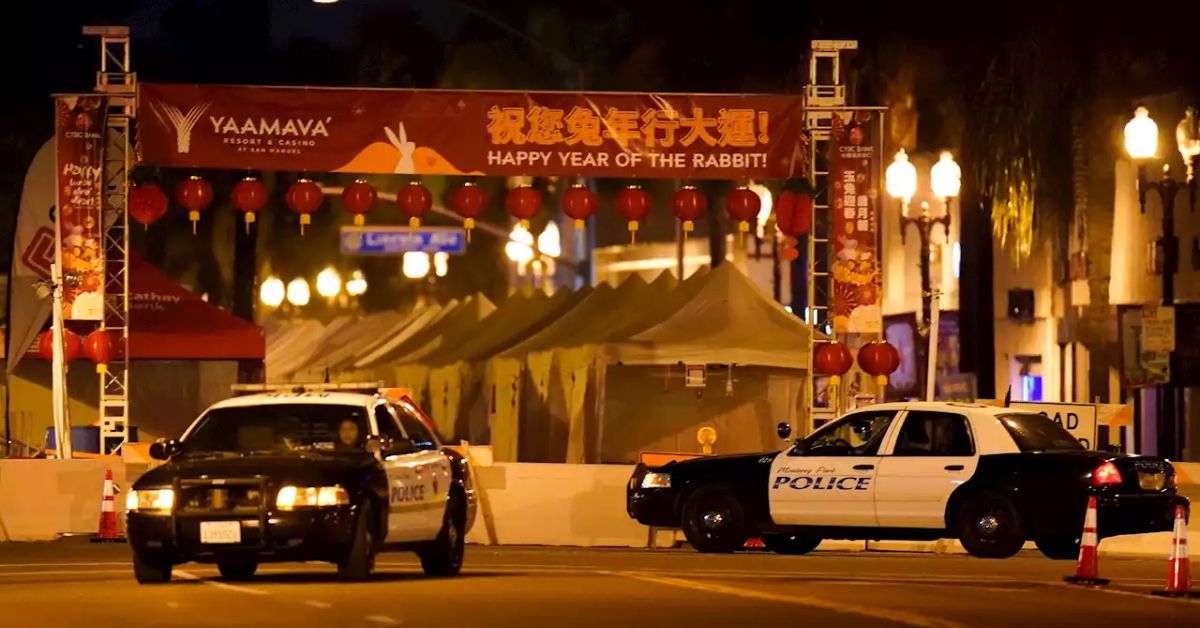 Although the motivation is still under investigation by police, a community leader in Monterey Park suggested that the shooter might have been upset about not being invited to a Lunar New Year dance. Earlier on Sunday, Luna tweeted pictures of the alleged shooter, asking for assistance in identifying an Asian person and warning that he should be regarded as "armed and dangerous."
At about 10:20 p.m. on Saturday, the shooting took place just one block from where tens of thousands of people had gathered for the Lunar New Year festivities in Monterey Park. Approximately 66% of the population of this 60,000-person city is Asian American, with roughly half of them being of Chinese ancestry. It is located about nine miles east of downtown Los Angeles. Numerous noodle shops and other businesses serving the Chinese American community can be found in the vicinity of the incident.
"To have this happen during a time that we should be celebrating with family and coming together… is just extraordinarily sad," Monterey Park Council Member Thomas Wong told TIME. "I think a lot of us are also angry, on edge, and just wondering what to make of this and trying to find out why this happened, or what happened and trying to find answers where we don't have any yet."
According to the Gun Violence Archive, this is the fifth mass murder shooting of the year and the 33rd mass shooting overall.
Here's what we know so far.
What Happened?
At 10:22 p.m., the Los Angeles County Sheriff's Department was alerted to reports of gunfire in the 100 block of West Garvey Avenue, and they were dispatched to Star Dance Studio.
"When officers arrived on the scene, they observed numerous individuals, patrons … pouring out of the location, screaming," sheriff's Capt Andrew Meyer said at a press conference early Sunday.
When the police entered the establishment, they discovered numerous other shooting victims. When the Monterey Park Fire Department arrived, five men and five women were found dead. At least 10 more victims, some of whom were in serious condition, were transferred to nearby hospitals.
No other information has been made public, and the victims have not yet been named. The victims, according to Luna, are primarily in their 50s and 60s, although some may be older.
Hattie Peng, who was at the dance hall when the shooting, told CBS News that several people around her were struck. "You could see the bodies already, several lying there," she said. Her dance partner, who shielded her from the bullets, was hit twice and taken to the hospital.

"He was my hero," she said.

https://twitter.com/CBSMornings/status/1617504044053942274
Three people ran inside Seung Won Choi's seafood BBQ restaurant across the street from the shooting scene, he told the Los Angeles Times and demanded that he lock the door. According to him, the gunman had a lot of ammo and reloaded his weapon when he ran out.
When he heard the news, Edwin Chen, a resident who grew up there, claims he hurried over from Woodland Hills. "This [was supposed to be] a happy time," he told the Times. "I want to find out as much as possible. It's still shocking."
Police claim that the suspect traveled around 20 minutes from the shooting location in Monterey Park to the Lai Lai Ballroom and Studio in Alhambra, California, about two miles away.
The guy struggled with Tsay, dropped his gun, and fled. Witnesses also saw a white cargo vehicle drive away from the site. The suspect was discovered deceased inside the van when it was later found in Torrance.
As the investigation progresses, the FBI's Los Angeles Field Office is collaborating with the Monterey Park Police, the homicide division of the sheriff's office.
We have recently covered top articles related to Monterey Park Shooting. You can check out more posts if you want to read complete information regarding this news:
What is Known About the Shooter?
According to the authorities, Huu Can Tran, 72, is the alleged shooter.
At a press conference held ten hours after the shooting, investigators could only give a general description of the shooter, calling him an "Asian male" between the ages of 30 and 50.
On Sunday afternoon, the sheriff later issued images of the alleged shooter, warning that he should be regarded as armed and dangerous.
On Saturday January 21, 2023 at 10:22 PM the suspect male/adult/Asian pictured above was involved in a shooting. Investigators have identified him as a Homicide suspect and he should be considered armed and dangerous.
Contact LASD Homicide with any information at 323-890-5000. pic.twitter.com/2gPUBBybvv

— Robert Luna (@LACoSheriff) January 22, 2023
Police in Torrance found the suspect's van and stopped it at about 10:20 on Sunday morning. "When officers exited their patrol vehicle to contact the occupant, they heard one gunshot coming from within the van," Sheriff Luna said.
Later, a SWAT team determined that the suspect inside had committed suicide. Additionally, police discovered evidence in the van that connected the man to the shooting in Monterey Park on Saturday night. Luna revealed that they found a weapon in the truck and retrieved a "magazine-fed semi-automatic assault pistol" at the Alhambra scene during a press conference on Sunday evening. According to Luna, the pistol found in Alhambra might be against the law in California.
Meyer said investigators have no information about a possible motive for the shooting. "We will look at every angle," he said.

Sheriff Luna said that it was possible that this incident would be classified as a hate crime when asked about it. "We don't know if this is specifically a hate crime defined by law, but who walks into a dance hall and guns down 20 people," he said Sunday morning.
The shooting suspect was not invited to the Lunar New Year dance, according to Chester Chong, a community leader in Monterey Park, but his wife was. He claimed that jealousy may have played a role in the shooting's motivation after speaking with witnesses and other local authorities.
The Leedaily is not responsible for the content of external sites. (Source Link)