After three years of being good friends and coworkers, Sang Su and Su Yeong's friendship became awkward after Sang Su made a love confession. Their first date went smoothly, but their second date turned into a disaster as miscommunications between them continued building up. Park Mi Gyeong joined their bank in the interim, and after a few days, she told Sang Su that she liked him.
On the other hand, security guard Jeong finally expressed his affection for Su Yeong in a heartfelt way. Given Sang Su and Su Yeon's ambiguous connection, "The Interest Of Love" already features two love triangles that will only become more complicated.
What Is The New Gossip About Su Yeong?
Su Yeong and Sang Su are extremely unlucky in terms of timing if anything. Because Sang Su was delayed for a while, he missed the opportunity to meet Su Yeong for dinner. Since then, nothing has gone well for them. After the class, they are finally ready to discuss their uneasy connection, but their coworkers interrupt them, and when Sang Su returns to speak with Su Yeong, she is engaged in a phone conversation with Jeong.
Su Yeong, however, asks Sang Su if they can speak after work the next day. Mi Gyeong informs Su Yeong at work that she has professed her feelings to Sang Su, but they have not yet started dating. After work, Su Yeong wanted to speak with Sang Su, but the branch chief dragged her to a meeting she didn't like to attend.
Some staff members begin speculating that Su Yeong and the branch leader are involved romantically because he always brings her to these gatherings. Su Yeong's standing in the bank is so poor that she has no other option. One of the staff members receives a picture of the branch leader and an unidentified woman, and she immediately wonders if Su Yeong is in the image.
Su Yeong is once more asked to accompany the branch chief to a meeting so that others can spread rumors about them, but she declines, claiming that she feels uneasy. She enrages the leader, who then demands that she clean the filing room by Monday. Su Yeong must undoubtedly work over the weekend to complete the task.
While they are also powerless, other employees believe their supervisor is misusing his position. At least they stopped chatting with their boss about Su Yeong's affair. Su Yeong accepts Jeong and Sang Su's offers of assistance but refuses them because she fears they will get into trouble. Sang Su then delivers Su Yeong's food and departs.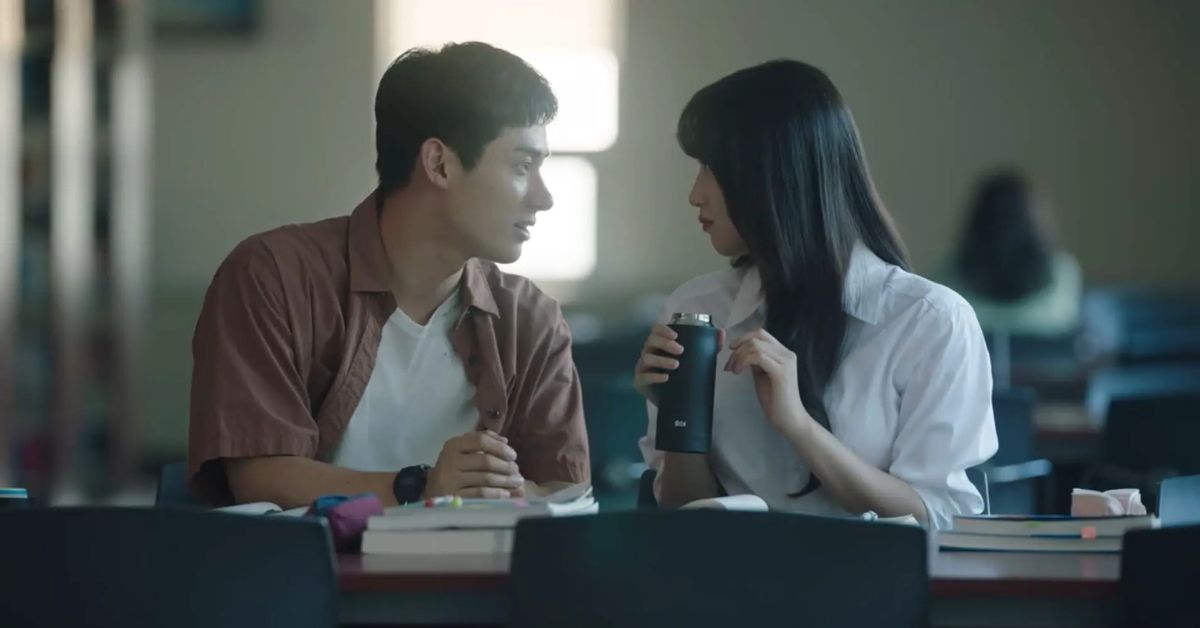 Su Yeong continues to work at the bank on the weekend, while Sang Su goes on a golf outing with a high-profile client. Later that day, Sang Su had to go to a college friend's wedding, so Mi Gyeong took him up. Mi Gyeong confesses that the VIP client Sang Su met is her father as they make their way to the wedding.
The reunion of Sang Su and Mi Gyeong with their college pals isn't as enjoyable as they had hoped. Mi Gyeong calls the pals out when they begin spreading rumors about the newlyweds. One of the companions takes offense and taunts Mi Gyeong by referring to her privilege due to her wealthy parents and how she took a poor student's college scholarship.
Even though Mi Gyeong is mainly independent of her parents and lives alone, some prejudices still apply to her. She is intelligent, yet her riches mask all of her positive qualities. She gets intoxicated with Sang Su while feeling angry. She wants others to recognize her achievements and that she has accomplished so much independently without parental assistance.
Su Yeong experiences the same thing, but her attempts are ignored since she lacks both a degree and contacts. She is still cleaning the filing room on Monday, so she misses the team meeting, but nobody cares because she only exists to perform menial duties. She seeks out her mother after being humiliated by her boss, which profoundly hurts her.
She was angry with her mother for reconciling with her father, but now, she needed her support. She tells her mother that on the day her brother passed away, she saw her father with another lady and thinks her brother also saw it. When Su Yeong spotted Su Hyeok's phone near where she had just seen her father, she discovered that Su Hyeok had passed away. Su Yeong will never be able to forget her father for this.
Despite her best efforts, Su Yeong's mother cannot tell her anything about her father. Su Yeong perceives her as having a secret. After speaking with her mother, Su Yeong becomes more composed, and on the way home, she questions why she acted weirdly with Sang Su despite his best efforts to explain himself to her.
She understands that because she is not honest with herself, she cannot be honest with him. However, she is not perplexed when she considers Jeong. Because they both reside in the same neighborhood, she runs into Jeong on the street. This time, Jeong informs Su Yeong that he is trying to win her over, and she decides to start dating him.
Even Jeong is taken aback by Su Yeong's abrupt announcement. The following day, though, the surprise at the bank is even more significant. Unexpectedly, an audit team stops by the bank and speaks with two specific workers. The branch chief yells at Su Yeong as he exits his office following their interview. He approaches Su Yeong and Sang Su interrupts.
We have also explained more shows. If you want to watch them, click on the links below.
The Interest of Love Ending Explained
Mi Gyeong and Sang Su have been spending a lot of time together, so as they are out for a jog, Mi Gyeong asks him once more if he would consider dating her. She is informed by Sang Su that he is not entirely prepared but that they can date if she is okay with that. They are legally married since Mi Gyeong is willing to accept even 1% of it.
On the other hand, Jeong calls Su Yeong back, and they meet. Jeong's appearance is poor, and he appears to be keeping something from Su Yeong. He suddenly asks her to end their relationship. While Su Yeong and Jeong's new romance is ready to finish, Sang Su and Mi Gyeong have just begun theirs.
Every brand-new episode of "The Interest Of Love" is filled with surprises. Su Yeong enjoyed her time with Jeong after their awkward connection with Sang Su ended, and he unexpectedly requested that they break up. Su Yeong always shares the challenging aspects of her life with him, despite his belief that she shouldn't be involved in anything that is going on in his life.
See the tweet below:
to be flooded by kayoung's elegant beauty 😭😭😭

✨ a blessing ✨ #ムンガヨン #문가영 #MunKaYoung #MoonGaYoung #Chaumet pic.twitter.com/aNXffyZapd

— Mun Kayoung 🌸 The Interest of Love (@kayoungvisuals) September 30, 2022
Su Yeong wants someone who can understand her, not someone perfect, despite Jeong's constant mentions of wanting to be the ideal boyfriend. Sang Su begins dating Mi Gyeong while having affection for Su Yeong. Everyone around them thinks their relationship is suitable because they are both successful adults with comparable social statuses, but their hearts aren't compatible.
Sang Su's hesitant decision to date Mi Gyeong is comparable to the drama's explicit emphasis on grownups marrying someone who matches their social position and financial means after they experience a passionate love affair.
You should follow us on Twitter if you want timely updates about your interests. We'd appreciate it if you found the information we provided usefully. After all, we did our best to get it to you.