After Taffy Boyle and Mandy Boyle were detained for the murder of George Boyle, Charlie Cale continued her trip in the fourth episode of Peacock's thriller series "Poker Face," titled "Rest in Metal." While the band is on tour, Charlie joins Doxxxology, a failed metal band, as a merchandiser.
Gavin, the new drummer for the group, and she become friends. Charlie attempts to tie up some loose ends to determine how exactly his friend passed away after Gavin inexplicably passes away during one of the band's performances.
Poker Face Episode 4 Recap
Ruby Ruin, the main vocalist of the formerly well-known band Doxxxology, opens the song "Rest in Metal" by attempting to find a drummer for their next tour. Gavin, who grew up listening to Ruby and her band's smash song "Staplehead," meets the singer for the job, and she chooses him.
Ruby and Gavin soon join Al, Eskie, and the rest of the band as they play in front of uninterested crowds in many Wisconsin bars and pubs. Listeners of Doxxxology insist on hearing "Staplehead," but the band isn't thrilled to perform it because it was composed by their former drummer, who also values the song's exclusivity.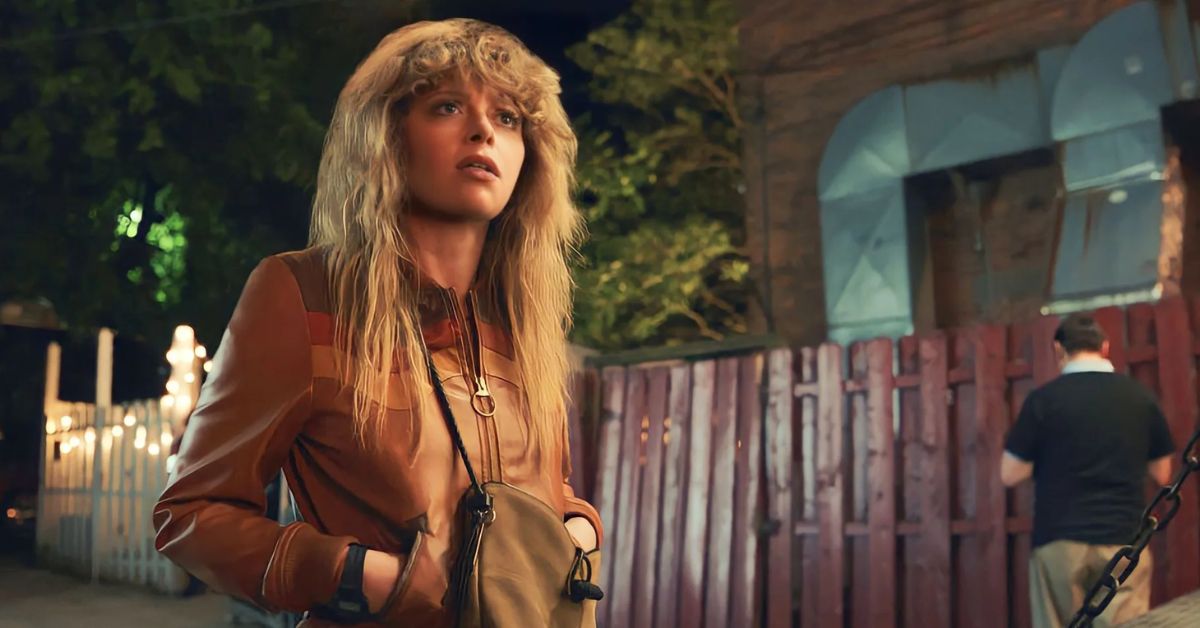 After leaving Boyle's BBQ, Charlie looks for work and eventually runs into Ruby, who offers her the job of the band's merchandise salesperson. As she makes a relationship with Gavin, Charlie drives the band about in her car and sells their stuff.
Ruby, Al, and Eskie do not treat Gavin fairly because he is not a founding member of the band, which causes the drummer to hang out with Charlie. After observing his suffering, Charlie even approaches Ruby about incorporating the drummer into the band's inner circle. Ruby is moved by what she says and agrees to let Gavin spend the night with the rest of his bandmates.
Poker Face Episode 4 Ending Explained
The metal band Doxxxology was praised when it first started for their popular song "Staplehead." Although the song came to define the bar, the band itself also suffered as a result. The band's former drummer resigned without paying the other three members royalties and wrote the song "Staplehead."
Ruby, Al, and Eskie attempt to continue performing, but they haven't recently produced a hit, making them a has-been band. Doxxxology members consider breaking up the band because they haven't had an impact, but Ruby argues that they should keep playing because they can soon have one.
Gavin informs Ruby, Al, and Eskie that he wrote and composed the song "Sucker Punch" on his own as they wait for a hit. His band members think Gavin's music is hit potential after listening to it together. Al and Eskie, however, don't want a replay of the "Staplehead" situation since they don't want Gavin to receive full credit for "Sucker Punch" as well.
But because they need a hit, the band cannot disregard or reject the song he writes. As a result, the other band members murder him and take the piece. "Sucker Punch" is Ruby, Al, and Eskie's second opportunity to regain their relevance as musicians.
They begin to think that the song will soon change their reputation as an unsuccessful band into a celebrated one. For that to happen, the song must be acknowledged as the group's original work. Gavin's murder allows the rest of the Doxxxology to share the glory evenly.
We have also explained more shows. If you want to watch them, click on the links below.
How Does Charlie Solve Gavin's Murder?
During one of Doxxxology's concerts, Gavin passes away. Gavin's amplifier is tampered with, and Eskie, Ruby, and Al ensure electricity is also running through his microphone. The drummer is then instructed to perform the infamous "Staplehead" scream so that he will touch the microphone and perish.
Gavin is electrocuted and dies on stage as Ruby, Al, and Eskie's murderous scheme successfully picks Charlie's interest. When she compiles the subtitles of various product advertisements the drummer has been utilizing, she unintentionally learns that Gavin authored the lyrics to "Sucker Punch."
Ruby agrees that she and her band are utilizing the music without giving Gavin any credit when Charlie confronts her about it because she believes they deserve another chance to establish themselves as a notable or respected band.
Charlie discovers from Deuteronomy that the amplifier that murdered Gavin can be modified to become a hazardous piece of apparatus. She hears Al writing a new song about an impossible crime, which further fuels her skepticism.
Ruby queries Charlie about her worries and how the other band members would have purposefully put their own lives in danger by joining Gavin on stage. Charlie then recalls the camera Gavin had placed at the base of the chair to record his gait.
See the tweet below:
Our lovely lead singer Alexandra with the awesome @ButcherBabies @HeidiTheButcher @ pic.twitter.com/Bz9BHC3TMv

— Pokerface Official (@BandPokerface) October 25, 2018
When Charlie gathers the same, he learns that Eskie, Al, and Ruby wore shoes with thick rubber soles to protect themselves from the electric jolt that killed Gavin. Charlie understands that Deuteronomy was fired for the band members to tamper with Gavin's amplifier because he always sets up the amplifier and other equipment just before Gavin dies.
Charlie's effectiveness significantly impacts the future of Ruby, Al, and Eskie as an investigator. Due to the success of the song "Sucker Punch," Doxxxology is set to secure a record deal, and Charlie is about to share the proof she has of Gavin's murder on a podcast. The information prevents music business executives from collaborating with Doxxxology as a band.
You should follow us on Twitter if you want timely updates about your interests. We'd appreciate it if you found the information we provided usefully. After all, we did our best to get it to you.