BTS, also known as Bangtan Sonyeondan or the Bangtan Boys, is a globally renowned South Korean boy band that has captured the hearts of millions of fans worldwide. The group has gained immense popularity for its catchy music, high-energy performances, and inspiring messages of self-love and empowerment.
Despite the band's immense success, there have been reports of people destroying BTS merch, such as albums, posters, and clothing items. This behavior is concerning not only because it harms the band's business and reputation but also because it represents a larger issue of hate and intolerance.
One reason why people might destroy BTS merch is due to a phenomenon called "anti-fandom." Anti-fandom refers to a group of people who actively dislike and criticize a particular celebrity or fandom.
In some cases, anti-fans might even engage in activities such as online harassment, spreading false rumors, or physical destruction of merchandise to show their disapproval.
Anti-fandom is not unique to BTS, and it has been seen with other popular artists and celebrities in the past. However, the intensity and magnitude of the anti-fandom towards BTS have been particularly significant, with some fans reporting receiving death threats and other forms of violent behavior.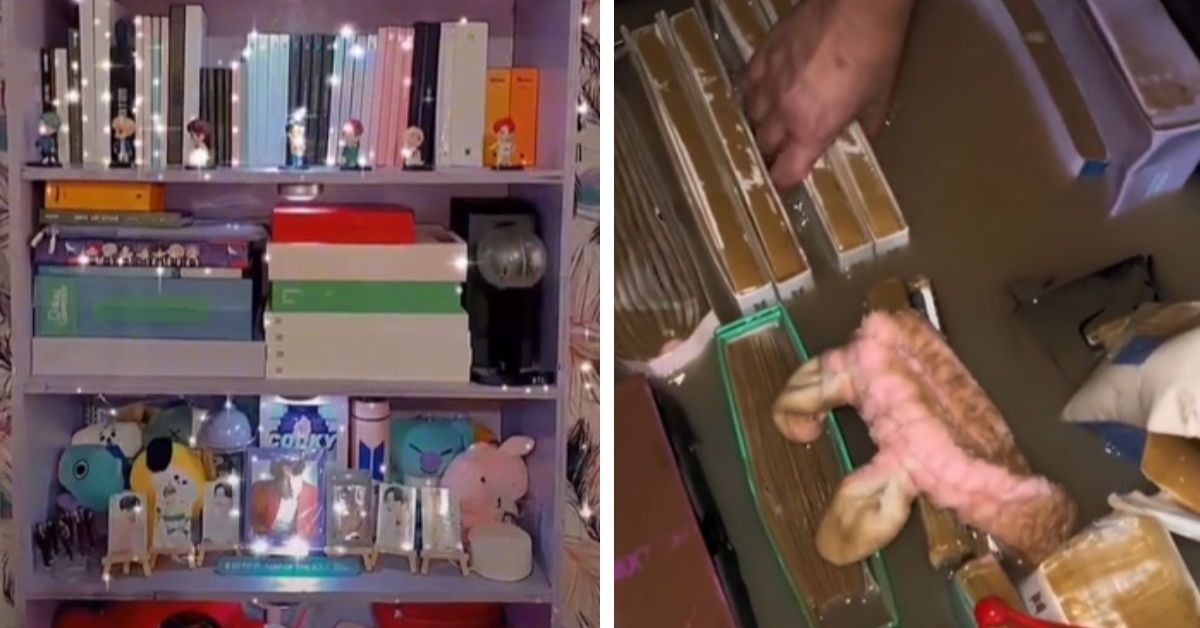 Another reason why people might destroy BTS merch is due to cultural differences and misunderstandings. As a South Korean group, BTS has a different cultural background and artistic approach compared to Western artists, which might not resonate with everyone.
Some people might find BTS's music and message too "feminine" or "soft" for their taste, which could lead to negative comments or actions. However, it's important to note that cultural differences should not be a justification for hate or intolerance toward others. You can listen to BTS Songs on Spotify.
Finally, it's possible that some people might destroy BTS merch as a way to rebel against the mainstream or challenge societal norms. In some cases, this behavior might be driven by a desire to stand out or differentiate oneself from the crowd.
However, destroying merchandise, whether it's BTS or any other artist, is not a productive or healthy way to express oneself. It's important to remember that everyone has the right to their own opinion and taste, but it should never come at the cost of others' well-being or property.
In conclusion, the behavior of destroying BTS merch is concerning and represents a larger issue of hate and intolerance. Whether it's driven by anti-fandom, cultural differences, or a desire to rebel against the mainstream, this behavior is never acceptable or productive.
As fans and members of a global community, we should strive to embrace diversity and celebrate differences, rather than tearing them down. We Do Not Know Whether It is Wrong or Right We Got This Data Based on Our Research.
Here Are Some Tweets What Fans Think About It
People that buy BTS' fan merch just to destroy them always crack me up. Like babe they will not cry over you destroying their merch when they already pocketed your money
People that buy BTS' fan merch just to destroy them always crack me up. Like babe they will not cry over you destroying their merch when they already pocketed your money😭😭

— 𝗺𝗲𝘆𝗮 *in her military wife era* (@THEE_hijabii) February 25, 2023
Yeah I understand. Unfortunately asain culture seems to become the punch line of people's jokes which I personally don't think is right but that's not for me to decide. But OMG can he stop destroying so much BTS merch and donate it to me please that shit is so expensive
Yeah I understand. Unfortunately asain culture seems to become the punch line of people's jokes which I personally don't think is right but that's not for me to decide. But OMG can he stop destroying so much BTS merch and donate it to me please that shit is so expensive😂😂😂

— abigail⁷ (@taetaemattel) March 15, 2021
why y'all embarrassed of wearing simple BTS merch? people are out here wearing western bands' tees and other merch… it's not that serious lol if you are army it shouldn't bother you to wear something of a band you like. the kpop brainwash destroying armys
why y'all embarrassed of wearing simple BTS merch? people are out here wearing western bands' tees and other merch… it's not that serious lol if you are army it shouldn't bother you to wear something of a band you like. the kpop brainwash destroying armys 😐

— rey (@hamsterjin04) September 1, 2022
Read More Articles related to BTS Army: