The Bachelor and Love Island has some competition. In honor of April Fool's Day, Duolingo has teamed up with American streaming-service Peacock (now accessible on Now TV) to release the teaser for their new romantic comedy "Love Language" at 4 pm EST today.
To find love, Duo has brought together ten self-assured bikini-clad singles from all over the world to live together in a mansion in paradise.
Where's the catch? Since they all speak different languages, they'll have to overcome some unique obstacles to communicate with one another. Duo the Owl, the show's renowned host and harsh judge, will boot singles off the show if they haven't completed their daily Duolingo language lessons or found a partner by the end of an episode.
"Love Language" is set to be the next smash of April… 1st, and it stars fan-favorite Francesca Farago ("Perfect Match" and "Too Hot to Handle").
Duolingo Announces Dating Show Like "Love Island" With a Cheeky Catch
You may have heard of the Indian show 'Splitsvilla' if you're a fan of reality series that have challenges and focus on love relationships. In contrast, a new product called "Love Language" is challenging the industry standard.
Duolingo has launched its original show, and it looks like it will keep fans on the edge of their seats with its surprise plot twists. Keep reading to find out what makes "Love Language" "stand out" from the rest of the crowd and to learn the shocking revelation that awaits you at the article's conclusion.
The first official trailer for a brand new Peacock original was released by Duolingo on their YouTube channel not too long ago. The show centers on a group of eligible individuals who move into a communal residence in the hopes of finding love.
Although it appears to be very similar to "Love Island," in which a group of single "Islanders" spend the summer together exploring dating and potential relationships, there is a significant difference! Duolingo's program features a linguistically diverse cast.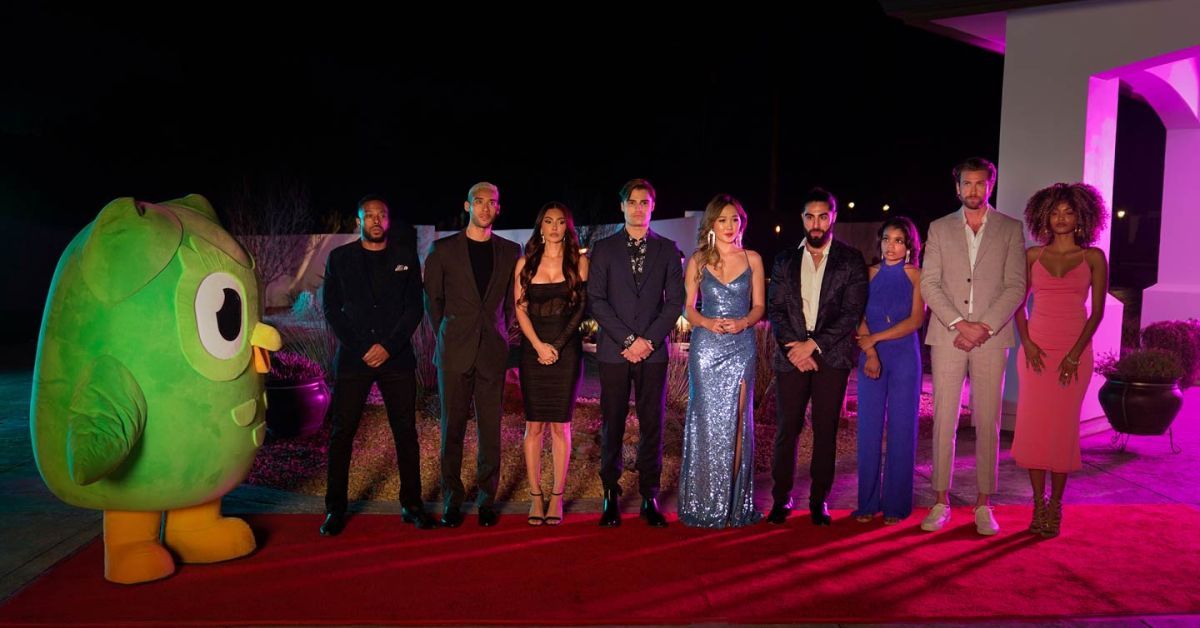 According to the rules, to win the grand prize, "couples must complete challenges and finally speak each other's love language." But there's a catch: contestants risk elimination at the hands of the show's infamous host and harsh judge, the Duolingo Owl if they haven't finished their daily language lessons or found a match by the end of each episode.
For more information about the Reality Dating Show, read the articles provided below:
The buzz about the approaching event rapidly went viral online, and many fans shared their anticipation with the world. The idea of Duolingo producing a dating show was not on anyone's 2023 bingo card, as one user put it. A third participant exclaimed, "This is beautiful!!"
The news quickly spread across the internet, and many people expressed their excitement for the upcoming show. One user exclaimed, "Duolingo making a dating show was not on my 2023 bingo card." Another user chimed in, saying, "This is beautiful!!"
Duolingo making a dating show was not on my 2023 bingo card pic.twitter.com/roSysZGaHi

— Tanay Jaipuria (@tanayj) March 30, 2023
While there has been a lot of anticipation and conversation surrounding the impending 'Love Language' show trailer, there is one key thing to remember – April Fools' Day! Did you get it?
Read the articles provided for further information about the Reality Dating Show:
That's correct, everything is a JOKE!
Duolingo's announcement of a new dating program was, in fact, a prank, as verified by a note on the Peacock streaming app that reads, "In case you haven't caught on by now, this reality show is, in fact, a joke and not real."
Yet, it is worth noting that their marketing strategy was effective and tricked everyone! Internet users complimented the language app's creative approach to April Fools' Day marketing. "Duolingo Marketing team deserves a raise!!" one user noted, while another was surprised by the magnitude of the prank, asking, "Has this been done before at a scale like this?"
For more information, you can look at the tweet we've provided below-
To clarify, this is an April Fools' joke, but maybe they'll reconsider and actually make this show. I know I would watch it 😂

— Tanay Jaipuria (@tanayj) March 30, 2023
Fans of both languages and reality television may enjoy one month of free admission to Super Duolingo and three months of Peacock Premium at a discounted rate of 50% (really, really). If you want to access it, just click the link.
Check Leedaily.com frequently for the most recent news and breaking stories from your neighborhood.