Here's all you need to know about Sam Hargrave's Extraction 2, starring Chris Hemsworth as Tyler Rake again, including the film's release date and trailer, its cast, and its plot.
Despite Chris Hemsworth's fame as Thor, the God of Thunder, the 2020 action blockbuster Extraction was his most menacing performance to date.
Extraction, an adaptation of Ande Parks' graphic novel, shocked Netflix audiences with its intense action sequences, making it the streaming service's most-watched original film ever.
We've broken down everything you need to know about Extraction 2, including the cast, the plot, and the trailer, since director Sam Hargrave has been working tirelessly to bring a sequel to life.
When Can We Expect to See the Release of Extraction 2?
The second installment of Extraction will debut on Netflix on June 16, 2023. Production on the Sam Hargrave-helmed sequel kicked off in Prague, Czech Republic, in the fall of 2021.
The last scene was shot in April 2022, while there were retakes in November 2022. Producer Joe Russo told Collider, "It's very different from 'Extraction 1', which we like. It's its own movie in that regard. It has a different color schematic. It's set in a different part of the world. It has a different pace, a different tone than the first one."
Russo continued,  "We're really excited about it, and we think it was beautifully shot. Hemsworth's fantastic in it. And we're excited to share it with audiences."
We have some articles about new movies and TV shows that are coming out soon. For more news, you can look at the articles below:
Where Can You Watch the Trailer for Extraction 2?
On April 3, 2023, a brand new trailer for Extraction 2 was released. Read on to find out more:
In the new trailer, Hemsworth's protagonist uses explosives to escape a cold prison with a woman. Even after taking a direct hit from a Molotov cocktail, he continues to throw firebombs and strike people in the face.
The first trailer for Extraction 2 may be viewed at this link.
In the first film, Hemsworth's character, Tyler Rake, is shot in the neck and falls off a bridge into a river in Dhaka. The second film's teaser trailer picks up just where the first left off.
Ovi (Rudhraksh Jaiswal) says in a voiceover to Tyler, "Tyler, you drown not by falling into the river but by staying submerged in it," and then Tyler opens his eyes and swims to the surface.
As part of their 2023 slate promo, Netflix also debuted new footage from the film, which you can see out right here.
Extraction 2: Which Cast Members Are Returning?
It was announced that Chris Hemsworth would be back to play Tyler Rake in the Extraction sequel.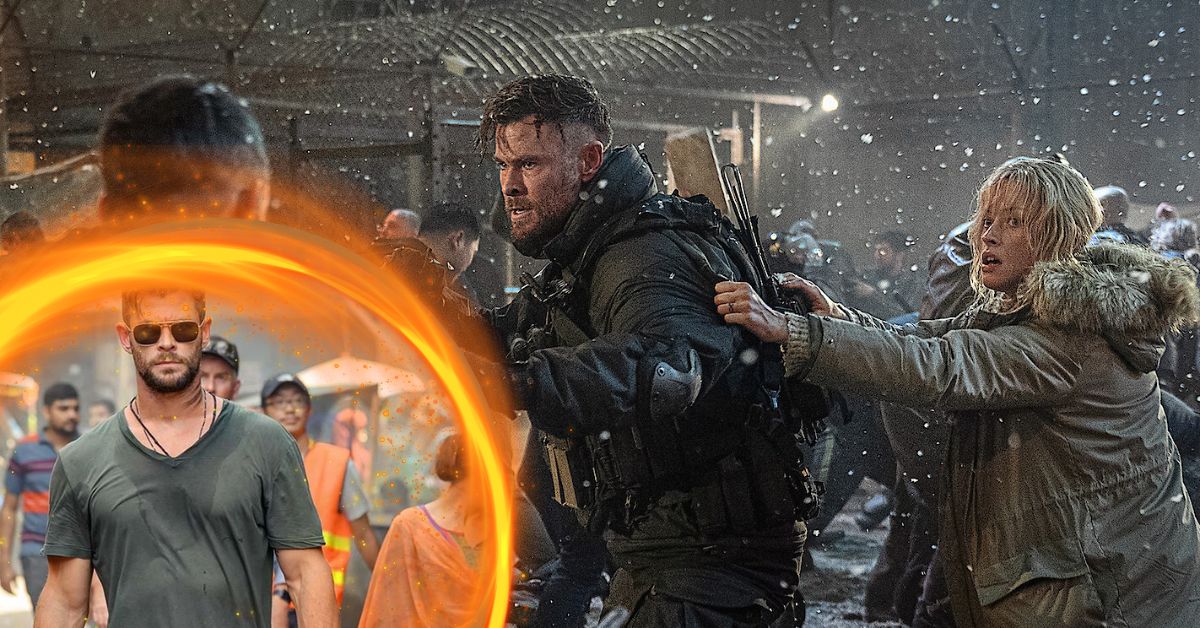 Adam Bessa (Mosul), who played Yaz previously, will be making a comeback appearance. Meanwhile, Rayna Campbell (Maleficent: Misstress of Evil) has been promoted from her uncredited role as Nik's crew's radio tech in Extraction to the starring role of Ruthie.
The role of Ketevan has been given to Georgian model and actress Tinatin Dalakishivili. Patrick Newall, who has worked as a producer and actor, will play Seb, a mercenary in the film Extraction. Avtandil will be played by Dato Bakhtadze (Wanted).
We have some articles about new movies and TV shows that are coming out in the near future. You can find more news in the articles below
Extraction 2: What Will It Be About?
As stated in the official plot summary, "Chris Hemsworth returns as Tyler Rake in Extraction 2, the sequel to Netflix's blockbuster action film Extraction."
"After barely surviving the events of the first movie, Rake is back as the Australian black ops mercenary, tasked with another deadly mission: rescuing the battered family of a ruthless Georgian gangster from the prison where they are being held."
Netflix claims that, like the original film, Extraction 2 is filled with "mind-blowing" stunt work.
🚨 We're landing helicopters on moving trains 🚨 Chris Hemsworth and director Sam Hargrave return for Extraction 2 – where the on-camera stunt-work is just as mind-blowing as the behind-the-scenes effort it takes to shoot it. #TUDUM pic.twitter.com/FMuk89Teln

— Netflix (@netflix) September 24, 2022
Tyler Rake was thought to be killed in action in Extraction, but Hemsworth has a grudge to settle.