Hiba Abouk recently made public her separation from her husband, the Moroccan football player Achraf Hakimi. The couple broke up after the new claims against the PSG fullback surfaced. The Spanish actress has now explained why she and her husband split up. Abouk was upset by rumors about their breakup and decided to set the record straight.
The PSG star's wife, Hiba Abouk, recently announced their divorce after the French Prosecutor accused her husband, soccer player Achraf Hakimi, of r*pe. A statement she issued was published in the Spanish newspaper El Pais, where she made her announcement.
The actress felt compelled to address the public and set the record straight about the misinformation about her breakup with the footballer. She explained that she had decided to end their relationship long before Hakimi was accused of r*pe.
Hiba Abouk added that "After deciding to legally separate and stop living together while waiting for the divorce proceedings, who would have imagined that in addition to facing the usual pain that comes with a separation and accepting the grief that comes with the failure of a family project to which I had given body and soul, I would have to face this ignominy."
On April 14, Pamilerin Adegoke tweeted and commented on his official Twitter page. In the tweet below, you can read the whole thing:
Achraf Hakimi's wife filed for divorce and wanted more than half of the Moroccan footballer's property and fortune. He is one of the highest paid players in Ligue 1, he receives more than a million euros per month. The ex-wife therefore would have had the jackpot..

— Pamilerin Adegoke (@UnclePamilerin) April 14, 2023
The interpreter of the movie El Principe continued: "I have needed time to digest this shock and, in certain issues or delicate matters, silence can help." A silence with which she has now decided to end to recover her "personal, public and professional life in the least harmful and traumatic way possible."
She concluded, "It remains to trust in the good work of justice. It goes without saying that in my life, I have always been and will always be on the side of the victims," hinting that he would believe the young woman's version.
We've recently written top articles about the divorces of famous people. Read the articles below if you want to know about their divorce statements:
Why Did Achraf Hakimi's Wife Fail to Get a Divorce?
After Hiba Abouk filed for divorce from Paris Saint-German defender Achraf Hakimi on the grounds of his alleged infidelity, she was left destitute and without alimony. She went to court to get a divorce and asked for half of the football star's assets as a settlement, but he turned out to be entirely destitute.
Hakimi registered his possessions and properties in his mother's name, Sadia Mouth, leaving him penniless on paper. Abouk, 36, took her 24-year-old husband to court, expecting to split his €70 million upon divorce. Instead, she was told that her husband's assets went to his mother.
According to States Football Club, "Ashraf Hakimi's wife had taken the court for a divorce case and wanted them to separate the assets and divide them in court. When the divorce occurred, and they agreed to share the assets, they realized Ashraf Hakimi had no support, and neither did the bank. Ashraf Hakimi had put all his fortune in his mother's name a long time ago."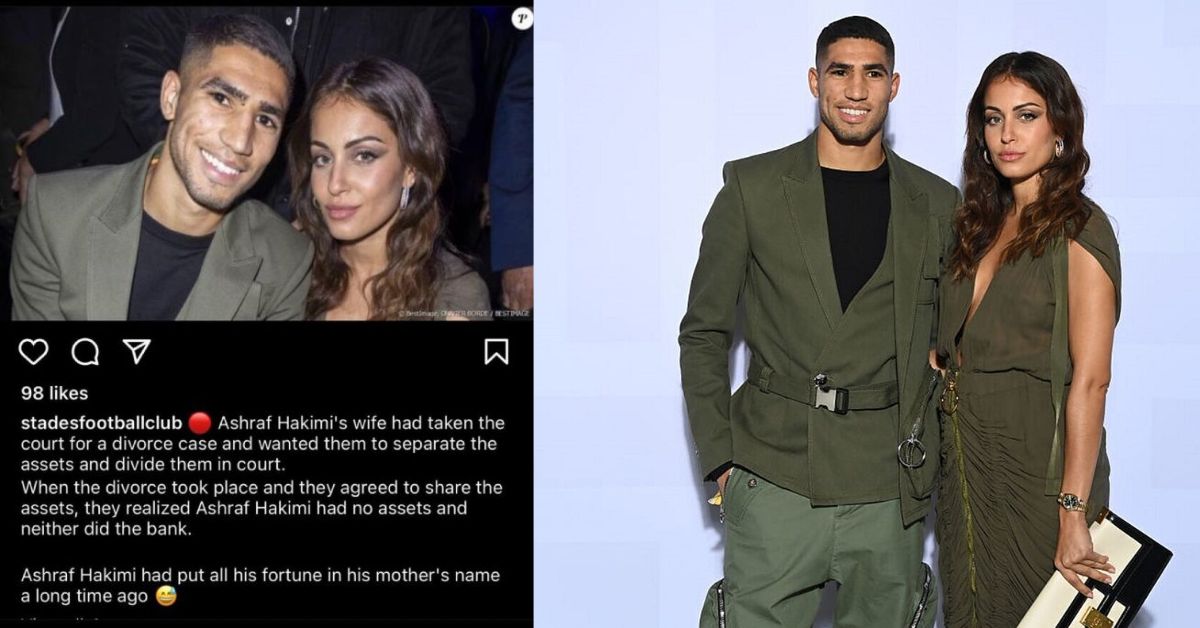 Hakimi, who is paid one million euros a month, began dating his wife in 2018 when he was 19, and she was 31. The renowned defender's wife and children were in Dubai when he was accused of r*pe by a lady he had brought to his home.
Last month, authorities began looking into the accusation made against Moroccan International. Follow us on Leedaily.com for more recent updates and news.