A man from Ventura County was taken into custody early Wednesday on suspicion of stabbing a Walmart clerk in Simi Valley and then driving his car into a gathering of adolescents outside Westlake High School, ki!!ing one of them.
Capt. William Hutton of the Ventura County Sheriff's Department said that the investigation into the Tuesday afternoon incident, including evidence at the site and testimonies from witnesses, led officials to infer that it was intentional.
Around 5 a.m. on seven felony counts, including attempted robbery, resisting an executive officer, attempted m*rder burglary, and two counts of exhibiting a pistol dangerously, Austin Eis, 24, was placed into the Ventura County central jail, Hutton said.
On Tuesday afternoon, a vehicle driven by a stabbing suspect crashed into a crowd of pedestrians near a high school in Southern California, killing one and injuring three more. You must read the full article by clicking here.
The current bail amount is $5 million. Hutton claims that no court date has been established.
Deputy Wendell Campbell, a Ventura County Sheriff's Office spokesman, said that Eis is a former Westlake High School student with no criminal record. Campbell stated that it was unclear whether or not he knew the youngsters and no motive for the stabbing or vehicle attack was given.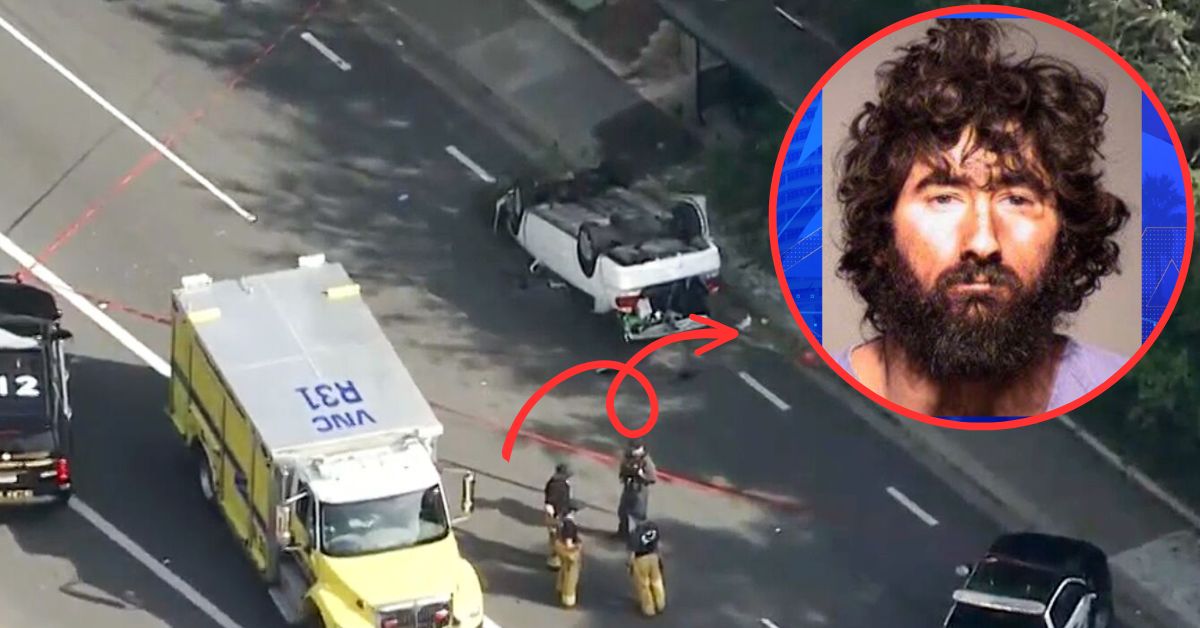 Eis's time spent at Westlake High School is unclear. Eis is accused of driving his Toyota Camry into a group of adolescents on Lakeview Canyon Road in Thousand Oaks at around 3:30 p.m. on Tuesday, close to the high school.
According to the sheriff's office, two boys, both 15, and two girls, ages 14 and 16, were among the four children hit by the vehicle.
One of the youngsters, Wesley Welling was pronounced dead at a nearby hospital. A GoFundMe page created by a family friend claims that Wesley, a ninth grader at Westlake, and his fellow pupils were waiting for a bus home when they were attacked.
Three further pupils were hurt and transported to the hospital. Two have been released, and Campbell said Wednesday morning that the nature of the third victim's injuries is unknown.
Officials say they detained Eis at the scene and took him to the hospital. The road, where a white sedan was left on its roof, would be closed for several hours.
According to investigators, the suspect had been linked to a stabbing in Simi Valley and a domestic dispute in Camarillo before the crash.
Police in Simi Valley were called to a Walmart in the 250 block of Cochran Street on Tuesday afternoon after a customer allegedly stabbed an employee before driving away in a white Toyota Camry.
A gunshot incident occurred just recently in Dadeville, Alabama. At least four people were ki!!ed, and several more were injured in a shooting at a birthday party on Saturday night in Dadeville, Alabama. Check out our recent articles for additional information on this matter.
The worker's status after being taken to the hospital is yet unknown. After arriving in Thousand Oaks, sheriff's officials say the suspect drove to Camarillo, where he confronted unharmed family members.
"I was walking with friends and I think I have turned around at that moment, and then the next moment, I think I hear like, very loud, higher screeching," Erik Bergh, a Westlake High School student who witnessed the crash, told KABC-TV Channel 7. "It sounds like a car's on the sidewalk and then I hear people screaming and running and then I turn around and I just see this big car barreling towards me and there's debris flying everywhere."
Conejo Valley Unified School District Supt. Mark McLaughlin told parents, "During this time of unimaginable loss, our thoughts and prayers remain with these students, their families, friends, and the entire Warrior community."
"We, as a tight-knit school community and district, appreciate your support and continued care for one another at this time and always," McLaughlin said. McLaughlin has announced that district-wide, mental health counselors will be available to students, faculty, and families on Wednesday.
According to the Ventura County Sheriff's Department, the motive for the Walmart stabbing has Sheriff's determined.
"The incident involved a customer stabbing an employee within the store. The suspect fled the scene before the officers arrived. Witnesses provided information about the suspect's vehicle, which was described as a white Toyota Camry, missing the front bumper. Witnesses also provided the license plate number of the suspect vehicle," officials said in a statement. "The victim of the stabbing, who suffered at least one stab wound, was transported to a local trauma center for treatment."